Guest written by Martina Drea, @martina.drea
---
So much has changed in the Indianapolis coffee scene since I last checked! And by "last checked," I mean post-height-of-the-pandemic. It is no secret that the food and beverage industry has been hard hit over the past year and a half. As a true coffee fanatic, it's been an interesting adjustment as we have transitioned from many cafes being closed to indoor seating and finally "open again" for slow sipping or remote working. During this time, we have lost a few tried-and-true cafés, but we've also seen the uprising of several new coffee shops that have sprouted during one of the most challenging seasons for the service industry. For that feat alone, I believe a round of applause is in order for the shops that are pushing through and pulling some AMAZING shots of espresso while doing it.
Recently, I decided to get back in the swing of visiting my favorite cafés and restaurants and venturing out to explore all of the new digs! I love the feeling of finding a new cozy space, trying a new latte, and simply mingling and meeting new people.
What better way to get to know Indy's new coffee scene, than with an impromptu cafe tour! I visited four coffee shops that have popped on the scene since 2020. Let me tell you - I was blown away by each one. Read on to check out my experience and find a new cafe to explore.
---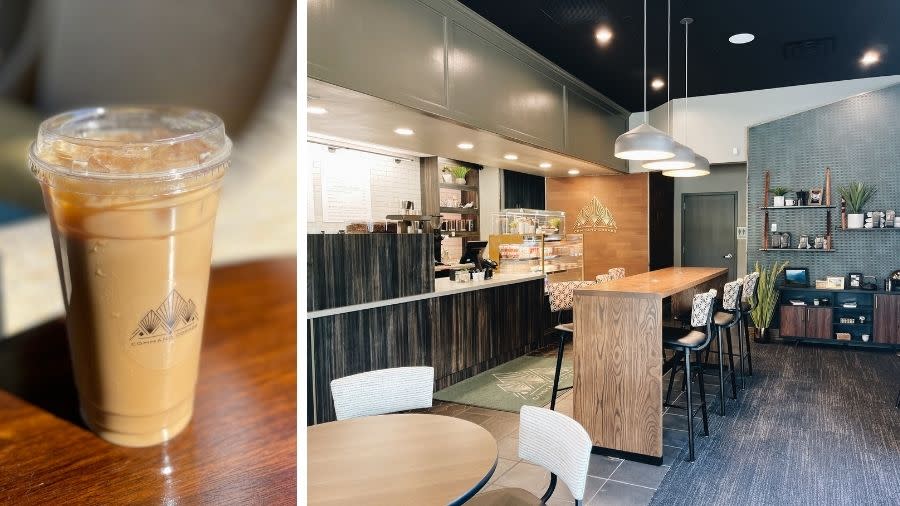 This first stop on my tour was Command Coffee. Command is a lovely new shop located on College Avenue, near Indy's Fall Creek neighborhood. As soon as I walked in, I was greeted by a chic interior that was cozy and inviting. The vibes were tranquil, quiet and you can find plenty of seating to work or meet a friend.
So let's talk about the coffee. Command is roasting their very own, premium beans (which they also sell by the bag). They have a great menu of beverages, snacks and desserts. I had an Iced Lavender White Mocha, and the flavor was amazing. Great espresso taste, and the syrups were not overly sweet. The lavender, which is a favorite flavor of mine, had just the right balance of floral and earthy notes. My barista didn't over do it with ice, so I'm glad it wasn't too diluted.
Another big win for Command - the drive thru window! Perfect for those on the go.
Spoiler Alert: I've already been back twice!
---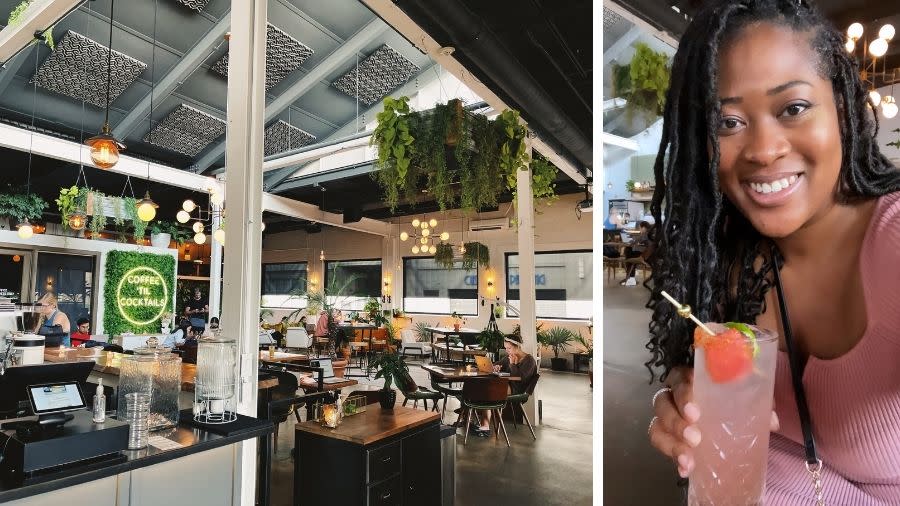 Next up - Parlor Public House. This newcomer in the Lockerbie District is "aesthetic" goals. I walked into beautiful decor, soft candle lights and lots of lovely plants. Parlor is as much about great coffee and drinks, as it is atmosphere.
The bar hosts lots of traditional coffee choices with a wide cocktail, wine, and beer menu. If you are hungry, you can snack on a charcuterie board. They even serve mocktails, if that's your thing.
Pro Tip: The espresso machine gets broken down at 3:30pm and the crew switches over to cocktail service. Admittedly I missed coffee service on my first visit, but the Chasing Tail Cocktail was a great pick me up nonetheless! I made my way into some lush seating, and soaked in the ambiance. On the second visit, I kept things simple with a regular cup of coffee. Solid choice!
Parlor Public House is a must try, and a great location to meet up with friends.
---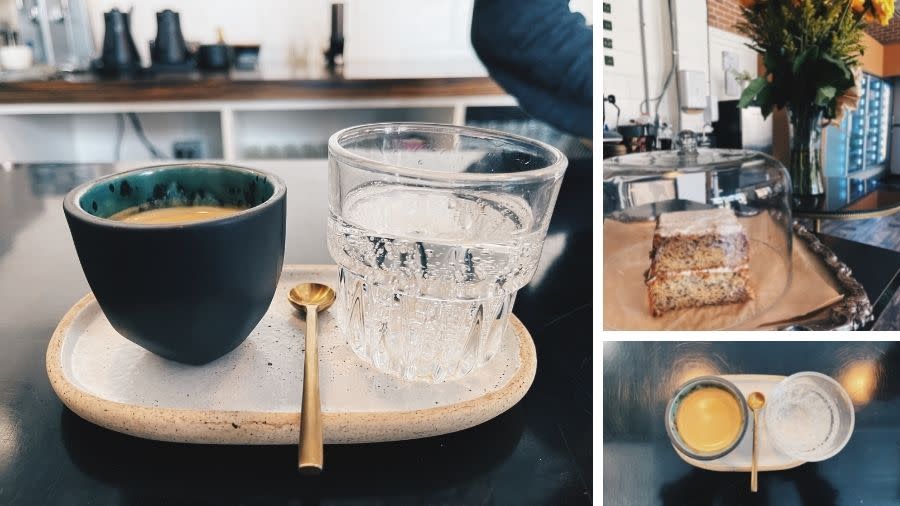 I can't say enough good things about this unique coffee shop and grocer, located on College Avenue. If you're a self-identified coffee nerd (like myself), this is where you need to be. This shop keeps a rotating line up of some of the best roasters in the world, so you will never get bored. Everything from the pour overs, the meticulously crafted lattes or the delicious pastries leaves you satisfied.
During my visit, I talked with Luke, and the service was incredible. He explained their coffee program so thoroughly and even had me try an extra espresso to learn more about their rotating flavors. At the time of visit, they had a Columbian Roast called Mind Blown, by Proud Mary out of Portland. I usually don't do espresso by itself, but this was a subtly fruity and complex drink to sip on.
I also had the Hunnymilk Latte and Banana Cake. One of the best lattes I've ever had. Simple, with honey and floral notes. Coffee is served in a glass mason jar, that you can bring back for a discount off your next drink.
---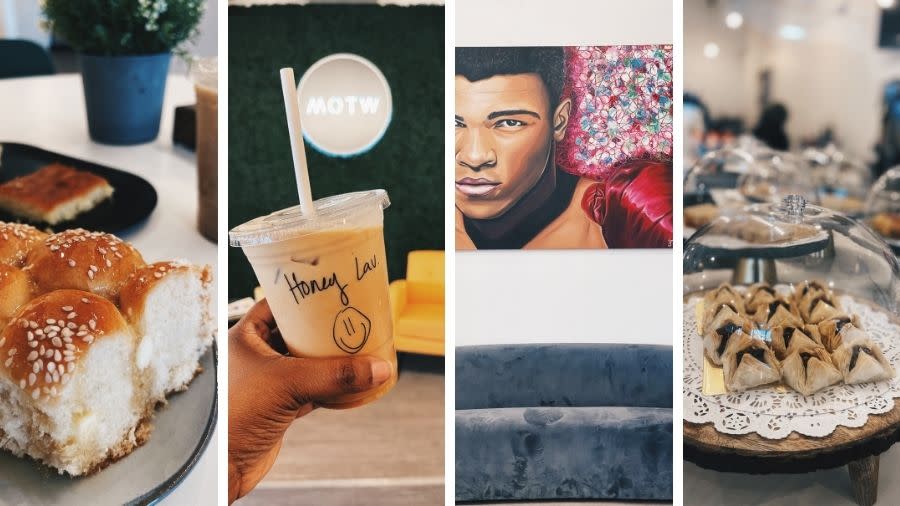 Make way for Muslims of the World Coffee & Pastries! The newest addition to Indianapolis' West Side, near Lafayette Road. MOTW nailed it with their expertly brewed Tinker Coffee and amazing line up of Middle Eastern and French inspired pastries! MOTW is all about Coffee with a Purpose and is inspired by the best-selling book Muslims of the World: Portraits and Stories of Hope, Survival, Loss, and Love by Sajjad Shah.
The shop is a perfect location for West Siders looking for a cozy coffee & tea shop with all the amenities you need. Great music, art, Wi-Fi and chill vibes.
Customer service from my barista was amazing and she provided me with a thorough explanation of the pastry and coffee program. The Baklava and Yemeni Bread were life changing! They serve up an array of unique coffee and latte flavors, jam packed with house made syrups and ingredients. I had the Honey Lavender Iced Latte (are we seeing a pattern here?....) and it was delicious. MOTW needs to be in your weekend coffee lineup.
What I loved most about my coffee tour was the feeling of community and connection in each location. At each stop, not only did I have some amazing bevvys and food, I also soaked in great conversation, fellowship and atmosphere. That's what keeps Indy's Coffee Scene buzzing, and I am so glad that it has not missed a beat.
---
Martina Jackson is a photographer, food blogger and the founder of the photography and marketing studio, Drea & Co. As a creative entrepreneur, Martina uses her artistic direction and writing skills to propel her marketing opportunities - with a special focus in the food and beverage industry. She recently published the cocktail book, After Hours: Craft Cocktail Exploration for the Curious Homebody.
All photos courtesy of Martina Jackson dreaandcompany.com