With a total of five haunted houses at one park, Indy Scream Park has been voted the #1 haunted house in America for good reason. You can barely step foot into the park without being scared as you're greeted by the Midway Monsters that interfere with your every move. Monster Midway is the area to make your plan of attacks: haunted houses, food, drinks, games, shopping, and more.
"We provide a night out, we provide an experience. A lot of haunted houses you go through, you get a bunch of scares and then you exit through the parking lot and if you want to go back in you need to buy another ticket," Mark Bremer, Creative Director said. "We want people visit a house, hangout, have a beer if you're old enough, grab an apple fritter, play games then go to the next one."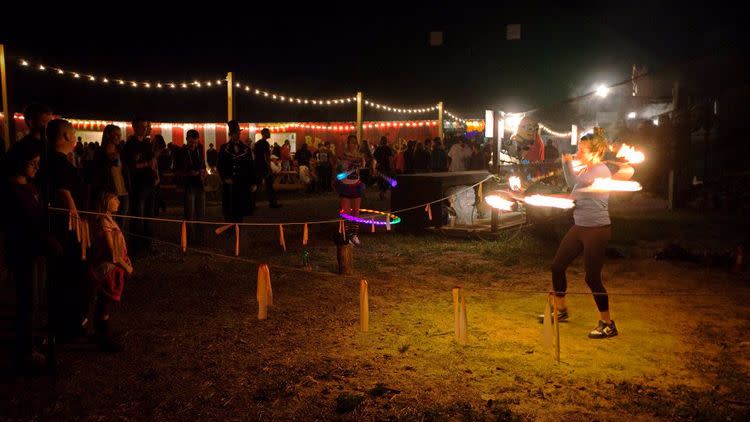 Haunted Houses
After going in the five houses - and I must say that they all have different elements of surprise - every time you think the coast is clear it isn't. I suggest that you opt-in for the interactive experiences where you may be grabbed or sent into rooms away from your group, that's what separates this from any other haunted house I've been to. 
Behind the Scenes
For each of the haunted houses and the midway there are six main graphics that drive all their advertisement: website, digital campaigns, and billboards. "The graphic should illustrate what you're getting yourself into without putting any words on it" Jon Pianki, Marketing Directors said. I fully agree with Jon because you can look at the banners prior to entering the houses and you will start to feel the vibe while you're waiting in line.
Haunted houses are major construction jobs, take precise marketing, and major planning for everything to go over smooth for the guests. Outside of the huge construction job and finding over 200 actors, it's the make-up and costumes that take the themes to a new level. "Everyone has different looks, based on the house, based on the characters, and sometimes where they are in the house," Jodi Morgan, makeup manager. Jodi has been with Indy Scream Park since the beginning, and now she has a set system in place. With the assistance of five other make-up artists, they have two hours to get make-up on everyone before they get in their positions.
Make sure you visit the Indy Scream Park this year! They are open every night from now through Halloween, click here to see dates and times they are open. Get pictures in front of the backdrops and don't forget to tag #LoveIndy on your social media!