Indy is one of America's most patriotic cities, after all, we are the Crossroads of America. With Veteran's Day coming up on November 11, here are eleven reasons why Indy shines as the perfect place to visit in order to honor those who have served: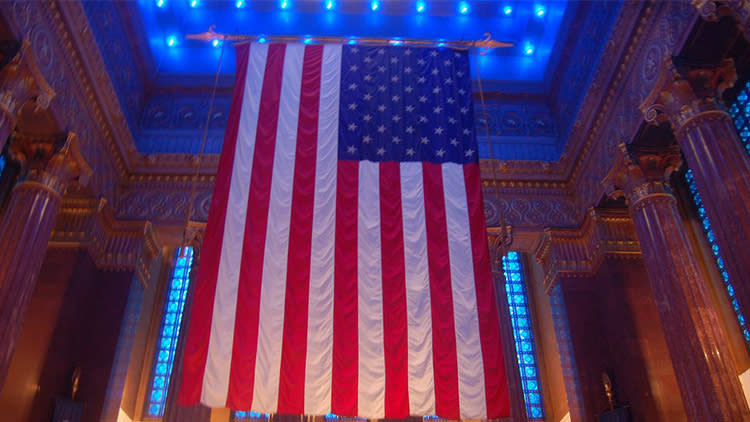 Indy is second to Washington D.C. in the number of monuments and memorials.
Home to the Congressional Medal of Honor Memorial, the highest ranking medal one can receive in the military. I think the Memorial is best viewed at night as the panels light up and tell stories of medal recipients.
One of the city's biggest hidden gems, is the stunning Shrine Room located inside the Indiana World War Memorial. And, it's free to step inside.
The epicenter of the nation's 12th largest city is marked by the Soldiers and Sailors Monument, which visitors can climb 331 stairs to get to the top and enjoy a 360-degree view of the city. You can also cheat and take a tiny elevator to the top for $1.
Next May will mark the debut of a blockbuster movie describing the nation's worst naval disaster, the USS Indianapolis. Visitors flock to this memorial alongside the downtown Central Canal to review the horrific story of the 1,196 men who were aboard the ship that was torpedoed by Japanese. Of the 1,196 on board, only 317 survived four days of shark attacks and hypothermia.
The American Legion sets up their national headquarters in downtown Indianapolis, being an anchor to the popular American Legion Mall, a gathering spot for visitors and residents alike.
Indy is the host city to the world's largest single day sporting event, the Indy 500, taking place every Memorial Weekend. This holiday weekend is packed with exclusive events to honor veterans and to celebrate the Heartland. It's a bucket list event to see the military salute, feel the flyover pass above 300,000 fans, and sing alongside America the Beautiful. And come Memorial Weekend 2016, the celebration will be larger than ever as we honor the 100th Running of the Indy 500.
A local firefighter, and someone who helped out on Ground Zero after the tragic 9/11 event, led the charge in erecting a 9/11 Memorial in the city. Two beams from the World Trade Center stand tall, one with a bald eagle sculpture facing towards New York City. When the local firefighter went to go retrieve the beams on a truck trailer bed, he returned to Indiana state lines to find over 6,000 motorcyclists waiting to greet him and escort him back to what would be the Memorial's home. Along the way, each overpass was packed with people waving flags and paying homage those who were victims.
Indy is the home to President Benjamin Harrison's home. Visitors and residents can enjoy several events and reenactments or history tours in his beautiful Victorian home in Old Northside neighborhood. As he was known for his front porch speeches, don't be surprised to drive by his home and see a Presidential look-a-like rehearsing. And while you're at it, peek inside the downtown Columbia Club, an early partisan club that played a large role in Benjamin Harrison's presidential campaign. Today, you'll find all political parties discussing current events over classy cocktails.
The third largest non-government National Cemetery is based in Indianapolis. 1.4 acres are dedicated to our fallen soldiers in a beautiful layout of hundreds of rows of heroes.
Sarah Breedlove was America's first self-made African American millionaire who earned her claim to fame through hair products. Being an uneducated female or black orphan didn't hold this inspirational leader back, and that's why today's Madame Walker Theatre towering along Indiana Avenue is a constant reminder that the American dream is real.
Feeling patriotic yet? Celebrate this Veteran's Day by making pits stops around the Circle City at these places that are packed with incredible stories and history. And, while you're at, thank a soldier.