This year, not one, not two, but three Indianapolis locals were selected as semifinalists for the James Beard Foundation's Beard Awards. The James Beard Foundation is all about food, specifically focusing on diverse and sustainable creations. Of course, deliciousness also plays a part. It should come as no surprise then that Martha Hoover, founder of Café Patachou, Abbi Merriss, chef at Bluebeard, and Steven Oakley, chef and owner of Oakleys Bistro, were selected as semifinalists for the 2019 awards.

Hoover is a semifinalist for Outstanding Restaurateur, and Merriss and Oakley are both semifinalists for the Best Chef: Great Lakes category. The three Indianapolis residents have made it past the Restaurant and Chef Committee of the organization and more than 600 judges from across the country will now vote to determine finalists. The finalists are announced on March 27, with the final awards gala held in Chicago come May.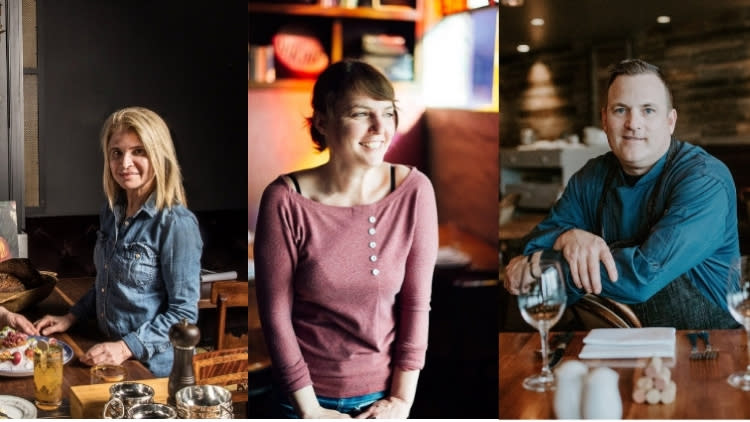 From left to right: Hoover, Merriss, and Oakley

This is not the first time these foodies have been given nationwide fame. Hoover has been up for Outstanding Restauranteur in 2013, 2016, 2017, and 2018. Merriss has been up for best chef for the Great Lakes region for the past four years. And Oakley was a semifinalist in the same category in 2008 and 2011while also taking the crown on the Food Network's "Beat Bobby Flay" two years ago. Needless to say, these Indy food stars are deserving of the accolades, but it hasn't come on a silver platter. 

The three semifinalists have each worked hard to be where they are today, building up their careers through the years with a faithful devotion to Indy. Yet it's the public acknowledgement of their establishments that nod to the real success. Visitors seldom come to Indy without hearing the suggestion of a Patachou BLT, a Bluebeard farm-to-table creation, or one of the many choices at Oakleys Bistro. These foodies have undoubtedly made a name for themselves within the food world, but the everyday eaters that leave their restaurants smiling is what raises the bar. So far, no one from Indy has gone on to win a James Beard Award...but perhaps that will change in 2019. One thing we know for sure is that these restaurants (and the people behind them) are always a win for some good food.