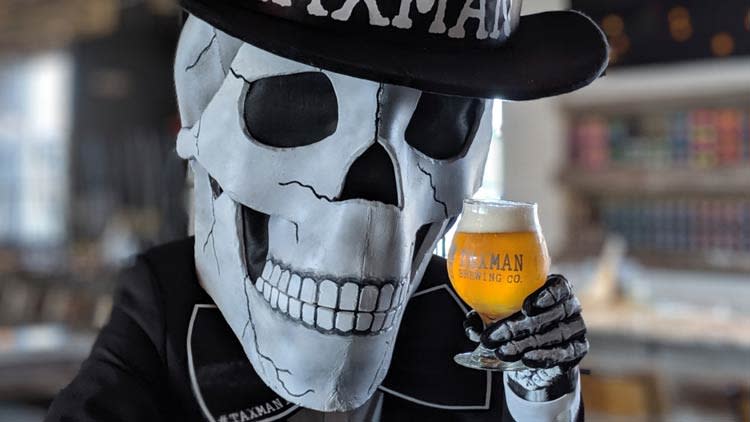 One of the early Central Indiana breweries to achieve widespread distribution, Taxman Brewing quickly developed a following. For Indy craft beer fans, getting a draft from the source required a 30-minute drive south to Bargersville. It was worth the trip. Their next brewery stuck with what seemed to be a philosophy of opening in small towns. This time, it was a tasting room in Fortville, a 30-minute drive east of the city. Again, it was worth the trip. Their belgium style beers and culinary creations developed a strong reputation amongst both drinkers and foodies alike.
Locals rejoiced when word came down that their third location would take a turn from the rural outskirts in favor of a new project in the heart of downtown Indy. To prep Indy Craft Pass fans, I talked to co-owner Leah Huelsebusch about Taxman CityWay and the evolution of their business.
CHECK IN SPECIAL: The first 25 Indy Craft Pass visitors to check in on November 8 get the glass pictured above.
---
Taxman Brewing started in Bargersville and has a second location in Fortville. Both locations have a decidedly small town flavor. Why did you decide to pursue an urban location?
Huelsebusch: Indianapolis is thriving and the growth that has happened downtown over the past few years has been amazing to see. We've heard many times that people visiting the city, whether in town for a convention or a weekend trip, would love to come to one of our locations but generally they don't have enough time to venture to Bargersville or Fortville. We've explored a lot of great expansion opportunities but when the Buckingham team came to us with the livery building, we knew it had everything we wanted in a downtown location.
What about the City Way location was particularly appealing?
Huelsebusch: The proximity to the Pacers fieldhouse and the Colts stadium definitely made the location very appealing. We love the CityWay neighborhood -- you can often find us enjoying a drink on Plat 99's patio or grabbing dinner at Nesso's bar -- and the recent development on the south side of Indy has made the city even more accessible for people living outside of the 465 ring. We love the ability to breathe life into an old building while keeping as much of the original character as possible. All of our locations are existing buildings that needed renovation...and they all also happen to be next to a railroad track. When we saw the livery space backed up to the tracks, it sealed the deal.
Is there anything about this new location, aside from the geographic location, that make it unique as compared with your other locations?
Huelsebusch: Our CityWay location features a large dog-friendly outdoor patio with a full-service outdoor bar. We'll have 20 beers on tap, wine, spirits, and will have the ability for outdoor private events as well as hosting live music.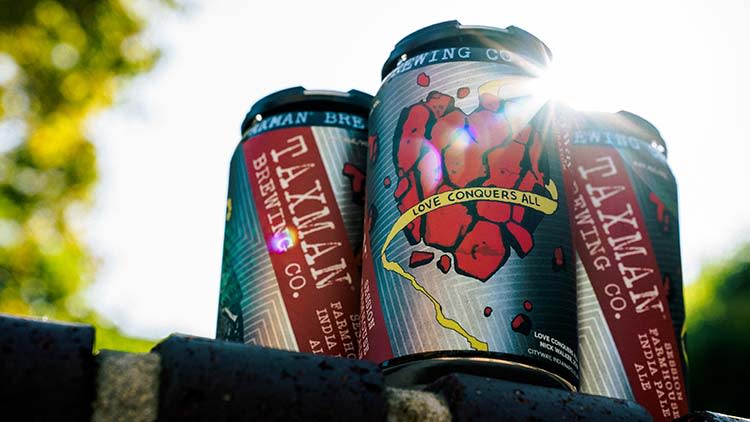 You've collaborated with the team at City Way to brew a special beer for this new location. Tell us about the inspiration for the beer and any tasting notes.
Huelsebusch: Because the building we've renovated is a modernized barn, we thought it only appropriate to make a farmhouse ale. Love Conquers All (our CityWay collaboration) is a session IPA featuring a rustic malt bill, spicy saison yeast and El Dorado, Cashmere and Lemondrop hops. We chose to do a session beer (meaning lower in alcohol) because they are ideal for tailgating before a Colts game or enjoying a couple before or after a Pacers game. We were able to leverage the mural on the new CityWay Tower by Nick Walker for the can design. 
When do you open and do you have anything special planned?
Huelsebusch: Our official opening will be Friday, November 8 at 11 am. We'll be releasing the Love Conquers All beer and can't wait to show everyone the new space!
---
We are thrilled to welcome Taxman CityWay to our city as part of the Indy Craft Pass. If you haven't already stared checking in and earning rewards visit explore.visitindy.com. Cheers!