Everybody's making plans for that first time all the doors are open again and I'm no different. Sure, I've been missing my favorite sushi and being in a crowd listening to live music, but one thing I haven't lost in the lockdown is local liquor.
A large number of breweries, wineries, and distilleries are still open for carryout/curbside service, and some even offer delivery. And here you were googling "how to make bathtub gin" for no good reason at all.
Grab something from a partner below and join in the weekly statewide virtual cheers each Friday at 6 pm.
By the way, you can still make progress toward your Indy Craft Pass rewards because any online order for pick-up or delivery qualifies as a check in. Simply ask for the check in code when ordering or picking up.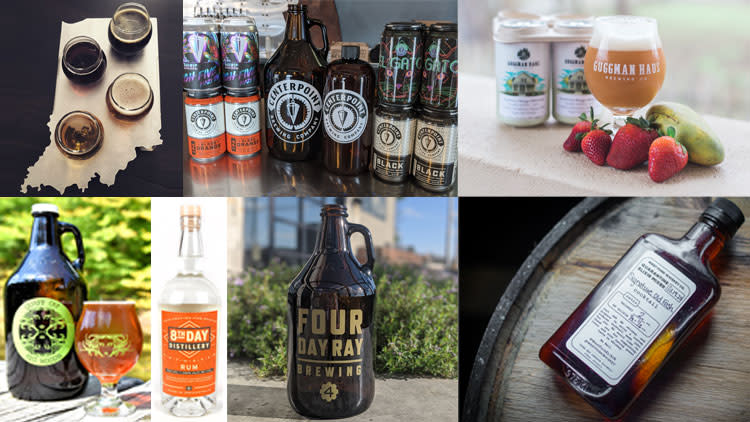 8th Day Distillery
Pick up freshly made cocktail mixes and a bottle of spirits to create a perfect drink at home. They're also producing WHO-approved sanitizer. Buy a bottle for yourself and a bottle will be donated to those in need.
Big Woods
The Speedway, Franklin, and Bloomington locations offer curbside pickup or DoorDash delivery. Specials include pizza combos with growler fills and bottles of Hard Truth spirits for $19.95-$99.95. You can also make tasty beverages at home with a Hard Truth cocktail kit for $39.95.
Centerpoint Brewing
Get your no-contact carryout at the brewery or home delivery if you live close enough.
Daredevil – Both locations
This weekend, snag B2GO cases of Hop Pilot, a New England IPA with a 4.08 score on Untapped. More specials are coming in May.
Easley Winery
Pickup Kauffman's 76 and Sweet Barrel White for $7 at curbside.
Four Day Ray
Order food, beer, and wine for curbside carryout. Fill your growler on Friday with select styles for $6.
Guggman Haus
Get your cans, growlers, and bullets at curbside pickup. Current special releases are fruited milkshake IPAs, New England IPAs, and fruited saisons.
Indiana City Brewing
If you live within 15 miles of the brewery, you can have your favorites ($30 minimum) delivered. If not, curbside pickup is ready to go.
Indy Brew Bus
For now you can't ride this magic bus and maintain social distance, but you can buy gift cards and look forward to future trips. And to get in some practice at home, purchase these excellent Indiana-shaped flight boards complete with four tasting glasses for just $25.
Sun King – All locations
Visit Tuesday for 10% off mix/match cases, then come back Friday for $7 core beer crowlers (32 oz.), $7 core beer 4-packs, and $6 core beer growler fills. Also snag a Make Your Own Pizza kit and rotating weekly meals (pot pie, enchilada, etc.). Feel good when you buy a gift card for frontline workers and Sun King matches your donation in the #BeerItForward campaign.
West Fork Whiskey
Whiskey is available for curbside pickup as well as new Elixir Mixers, bottled cocktails that just need that whiskey added. And here's a special just for Craft Pass users: spend $60 or more and receive a $10 gift card with code indycraftpass.
In addition to the above, many other sellers of spirits, agents of alcohol, dealers of drinks, and bringers of booze can meet your needs with carryout options: Ash & Elm Cider, Bier Brewery, Fountain Square Brewery, Hotel Tango Distillery, MashCraft Brewing, Metazoa Brewing, New Day Craft, Peace Water Winery, RAM Restaurant & Brewery, St. Joseph Brewery, Taxman, TwoDEEP Brewing, and Upland Brewing.