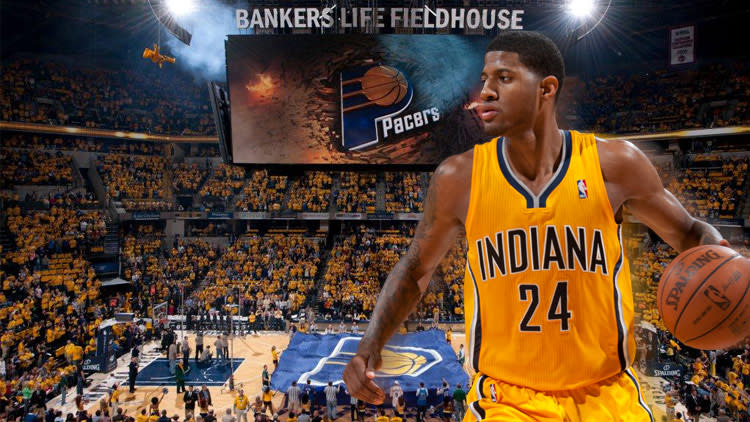 I wrote annual Indiana Pacers season previews up until last year (2013-14 | 2012-13 | 2011-12 | 2010-11 | 2009-10). I'll be honest: I was in a fan funk. When PG's leg snapped in Vegas the team's championship aspirations crashed. Entering this season the Pacers are a vastly different team than the one that contended for the Eastern Conference Finals just two years ago. All good things must end, and that group of players simply grew weary of one another. This year we carry forward core players Paul George and George Hill and pair them with a fresh group of talent. From rookies to free agents, this new Pacers squad me intrigued. Here are five reasons why:
1. Paul George Returns: Last season proved that All Star talent is a requirement for a contender, and PG is our man. Without him the Pacers lacked a transcendent star who could turn a game with Sportcenter-worthy highlights. In the preseason he has shown signs of his old self, and I'm hoping (and praying) he can restore his place among NBA royalty.
2. The Rookies: Getting too excited about young players can be dangerous, but the Indiana Pacers have three guys I think will earn meaningful minutes over the course of the year. In Myles Turner (6'11") and Rakeem Christmas (6'9") we gain much needed size. With Joe Young we get an aggressive guard with an itchy trigger finger. You have my attention boys.
3. New Philosophy: Gone is the old-school system of playing inside/out. Larry Bird is tired of being a low scoring defensive powerhouse. He wants to run and he wants to light up the scoreboard. That means Coach Frank Vogel is revamping the offense to push tempo. Whether this will produce wins is up for debate, but you can bet it will be entertaining.
4. Veterans Looking for Opportunity: The Pacers sport a host of veterans who've been in the league for 6-10 years. The crew has, generally speaking, spent their years playing for underperforming teams. I'm looking at you Rodney Stuckey, C.J. Miles, Jordan Hill, and Chase Budinger. Each has the opportunity to rewrite the story of their careers and make a major impact.
5. X-Factors: I purposefully left Monta Ellis off the above list. Ellis was our biggest free agent splash and, say what you will, the guy can fill it up. But can he find balance between being a prolific scorer and a teammate who elevates those around him? Then there is the curious case of Glen Robinson. Larry Bird sees something in the second year player that has him excited. All I have to say is: In Bird I Trust.
---
The Eastern Conference favorites are clearly Lebron and the Cavs along with Derrick Rose and the Bulls. After that, it's anybody's ball game. If this Indiana Pacers team gels over the course of the season anything is possible.
So get out and get to a game! To make packing Bankers Life Fieldhouse easy the team is offering some great ticket deals:
Two for Tuesday: Buy one tickets, get another free. Yes, you read that right.
Family Nights: Get a ticket, a hat, and a voucher for hot dog, chips and a soft drink for one low price. 
Hickory Pacers 5-Game Plan: Fans of Hoosiers will love watching the team play in retro jerseys against the NBA's best. Plus, get your own limited-edition Hickory t-shirt.