Ladies and Gentlemen, start your engines. It's a phrase we're well acquainted with during the month of May here in Indianapolis. But this time, we're talking about cars on a much smaller scale. Everybody's favorite miniature sized racers are BACK at The Children's Museum of Indianapolis.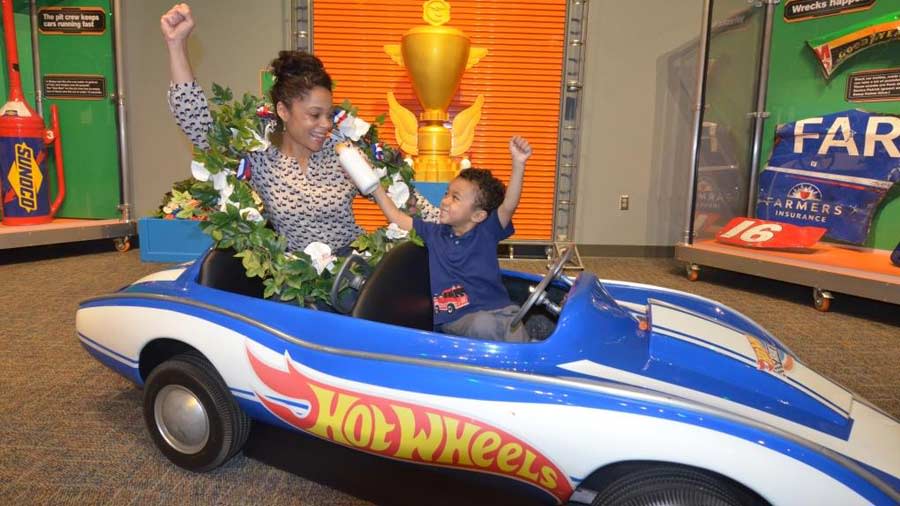 Crack out your checkered flags. Starting May 18th, you can lay down tracks to learn the ins and outs of building race cars, both large and small. Hot Wheels™: Race to Win™ is a can't miss experience for kids of all ages.
From designing cars to learning the science and engineering skills required, each and every future driver takes a deep dive into what makes vehicles MOVE (and fast). Plus, you know you want to try out those custom made Hot Wheels™ tracks to see if you can win! Bonus: you can even take a victory photo in the Winner's Circle when you do (or maybe even if you don't). Just don't forget the bottle of milk.
This exhibit isn't permanent, friends. You'll want to make your way to The Children's Museum of Indianapolis BEFORE July 28th when all of those cars are packed up in their special carrying case (does anyone else remember those?) for good. This exhibit is truly one of my very favorite experiences of all time at the Children's Museum. Your parenting heart is certain to flood with nostalgia as you share a treasured childhood toy with your own kids.
Play mixed with STEM learning provides fun learning opportunities for your little racers all summer long.
Don't forget, you can save up to 25% off the cost of your tickets when you purchase them online two weeks in advance. PLUS, you can get into The Children's Museum of Indianapolis on the First Thursday of each month for the low price of $5 between the hours of 4 and 8 pm. As always, you can bring your own snacks and drinks to the museum to save a little cash that way. Don't forget to set expectations about what you will and won't be spending at the gift shop before you arrive, too.