There's nothing quite like coming home for the holidays, especially if you're flying in through the Indianapolis International Airport. Rated the #1 Airport in North America for seven years by Airports Council International, Best Airport in the United States for the six years by Condé Nast, and up for Best Small Airport by USA Today, IND is a place like no other to experience the Circle City holidays.
Holiday Décor
Not only does IND have a stunning Christmas tree display in the center of Civic Plaza, complete with larger-than-life ornaments, but IND also includes Hanukkah and Kwanza décor. Additional signage and displays provide an educational opportunity for travelers coming in and out of the Circle City. With special thanks to Nichelle Hayes, the Special Collections Librarian at the Central Library's Center for Black Literature and Culture, IND is proud to be inclusive with its exciting festivities.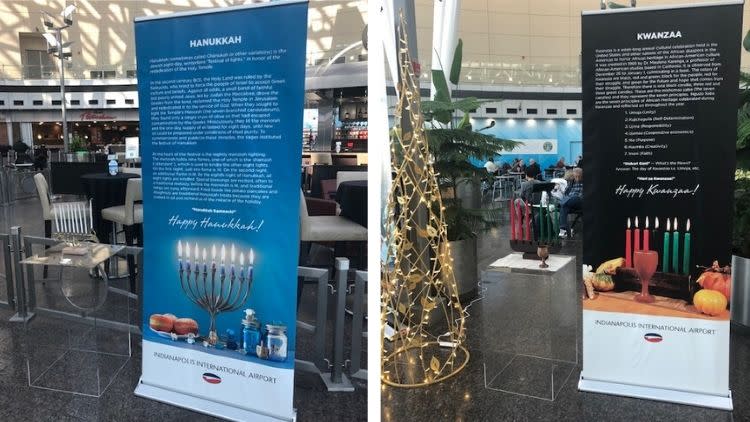 Hanukkah and Kwanza displays at IND
Holiday Music at IND
Throughout the past few weeks, IND has hosted a holiday music series in Civic Plaza, featuring some of Indy's best bands and performers – including MGS DJs, Two Girls and Band, Kimberly Crowder, Rosie Inman, Jan Aldridge Clark, the Capitol City Chorus, and a plethora of local area school groups. If you're traveling through IND this holiday season, keep an eye out for Blair Clark, Jeff Reed on piano, and Jan Aldridge Clark on closing out the perofmances on Christmas Eve.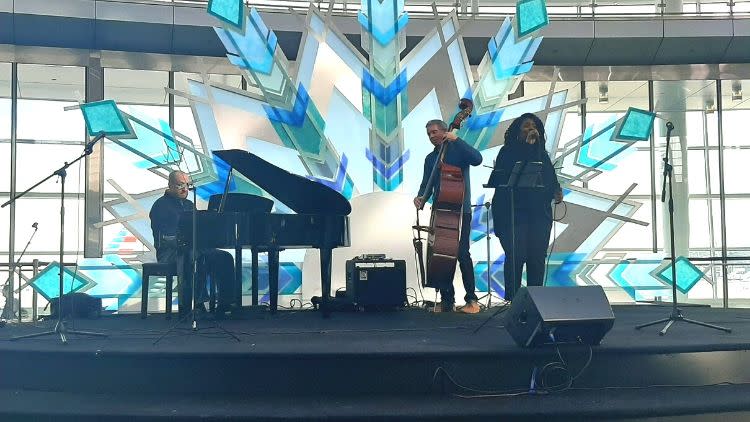 Two Girls and Band at IND
Other "One-of-a-kIND" Activations
In addition to these uplifting holiday charms, IND has three other exciting stories to tell. First, the Concessions Refresh Program welcomes new stores such as FAO Schwarz and Ink by Hudson, refreshing the retail options in the airport.
Next to Ink by Hudson, travelers can find the new Indiana Humanities display case. The display highlights the Eugene & Marilyn Glick Indiana Authors Award program, which honors contemporary Hoosier authors and highlights the state's rich literary heritage.
Finally, in partnership with the Arts Council of Indianapolis, IND recently put three new art exhibits on display for visitors to enjoy this fall and winter. Works from  Tom Duffy (Harvesting Limestone), Keith "Wildstyle" Paschall (Indy Hip Hop Music) and  Heather Vickers (Equine) give travelers a glimpse into each artist's unique life journey.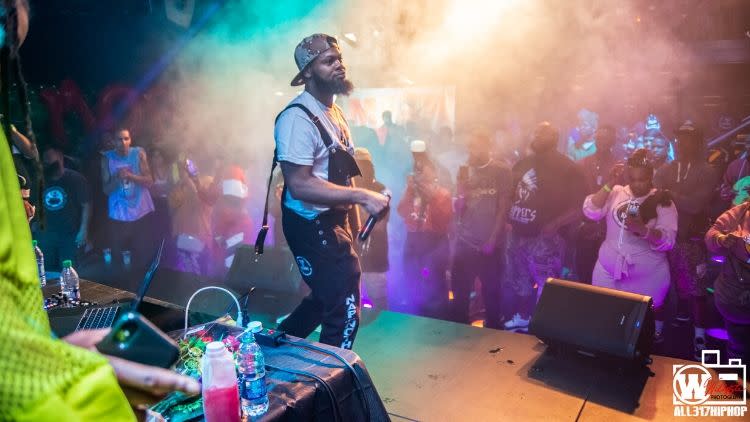 Original artwork created by Keith Paschall