The past year hasn't provided too many 'easy button' opportunities, until now. As a mom and the one who is the planner amongst our family and friends, this is one easy button I can get behind. Not to mention, I'm saving money. Try to name one 'easy button' option in life that actually saves you money. I can't.
Indy is re-launching the Indy Attraction Pass. With a click of a button, you can buy one pass to get you into eight of Indy's top cultural attractions for one discounted rate. The only decision left to make is whether or not you have one-day or three-days to explore the Circle City. The one-day attraction pass is $48 for adults and $37 for children. The three-day attraction pass is $75 for adults and $65 for children, saving up to 50 percent off collective museum admission. And, with three attractions - The Eiteljorg Museum, Indiana State Museum, and Indianapolis Zoo, and Indiana Historical Society - all within walking distance to downtown hotels and a part of scenic White River State Park, you could piece together your ideal getaway with the Indy Attraction Pass.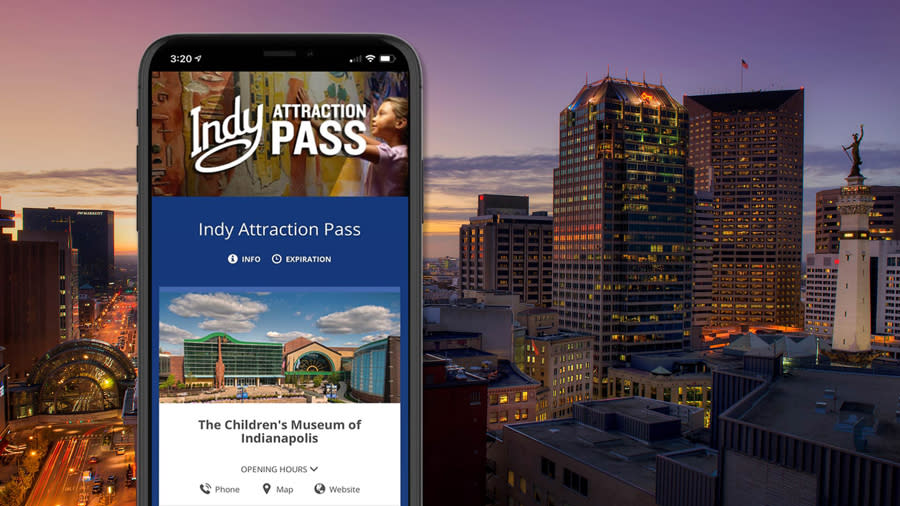 The pass is so easy to use. Once purchased, the pass is delivered to your phone via text and email and is ready to use immediately. There is no app to download, as the pass can be saved to your phone's home screen for easy one-tap access. Upon visiting a participating attraction, you show your phone to redeem with contactless mobile entry.
The pass gives you access to these five Indy attractions, and as a veteran visitor of these hot spots, allow me to provide some tips for those that have one or three days to explore and build out their Indy itinerary.
This Smithsonian-affiliated interactive history park is located on the north side of the city. While Conner Prairie has both indoor and outdoor spaces for families to explore, I'm a huge fan of their Animal Encounters, Treetop Outpost, and 1859 Balloon Voyage Experience. So, pick a good-weathered day to spend at least half a day at Conner Prairie.
Located less than 10 minutes from downtown is the world's largest Children's Museum, and often considered the world's best. You truly could spend all day at the Museum and still not see everything. The majority of the museum is located indoors, but they recently expanded the museum with 7.5 acres of outdoor sports fun where the kids can run (great place to expend some energy before nap or bedtime).
This is the first museum you'll find at the entrance of White River State Park. The facilities are stunning and the rotating exhibits never disappoint. If you're looking for a good lunch stop, check out the Eiteljorg's Museum Café. You can dine outside on their terrace while overlooking the Central Canal.
While the Indiana State Museum continuously has rotating exhibits that are a worthwhile stop, I love the architecture of their building. Explore the exterior of their building where there are 92 different art installments embedded into Indiana limestone representing one from each of Indiana's 92 counties.
After exploring the Eiteljorg Museum and the State Museum, pop over the Central Canal and pedestrian bridge to enter into the Zoo. Make sure to get your ticket to the dolphin show and meander throughout the Zoo's 64 acres before you make your way back to show time. And, since you've saved so much on admission, perhaps consider adding on an animal encounter experience where you can paint with a penguin or help bathe an elephant.
Go back in time at the Indiana Historical Society and see Indiana history up close. At the Indiana Historical Society, you'll be able to meet some of history's most notable characters, such as Madam C.J. Walker. Ask Indy's entrepreneurial icon all your questions about Indy in the early 20th centruy, and learn about her expansive haircare line along the way. 
Next, head over the Famed Oval and check out the Indianapolis Motor Speedway Museum. Over the years, the museum has amassed one of the world's largest, and most varied collections of racing, antique and classic cars, including more than 30 that have won the famous Indianapolis 500. Year-round narrated bus tours of the race track are available, weather permitting and when the track is not in use for racing, testing, or special events. The Tony Hulman Theatre presents a short film on the history of the track and its' importance to fans worldwide.
Finally, wrap up your visit with a trip to Newfields. The 152-acre cultural campus features art galleries, lush gardens, a historic home, performance spaces, a nature preserve and sculpture park. 
I'm grateful for an 'easy button' and such a quality list of attractions to explore. Now time go exploring with the new Indy Attraction Pass.