Have you ever wanted to play golf inside a ballpark? I never knew this was on my bucket list but when I heard about The Links at Victory Field, it shot to the top of said list. Who knows when the next time you'll be able to golf inside a ballpark will be…most likely, never. It's not technically golf, but it's certainly not baseball.
It's a 9-hole, 27-shot experience that spans the 360-degree panorama of Victory Field and its beautiful views of downtown. This event is open to individuals ($39 for 9 holes) and foursomes ($140 total for 9 holes) but is around for one weekend only. This one is for golfers, non-golfers and everyone in between.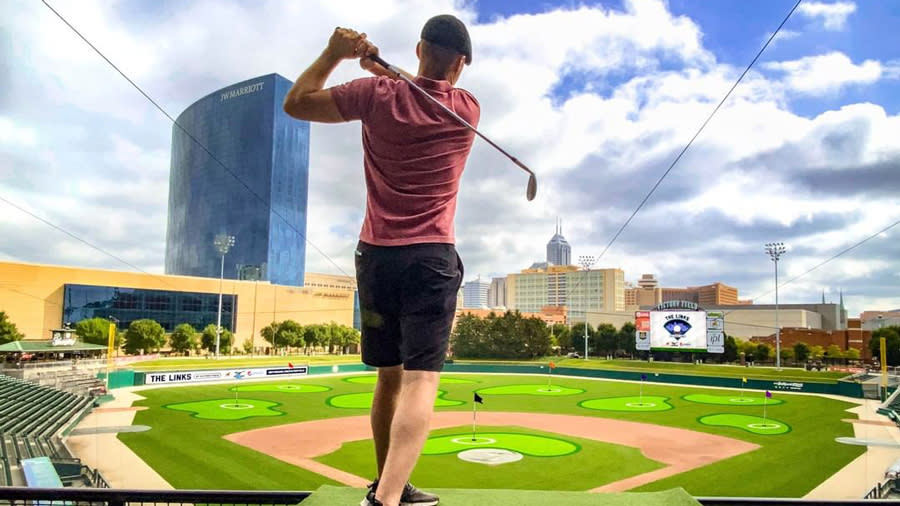 The Links at Victory Field
How does it work?
Move your way clockwise around the concourse and upper deck, hitting balls onto the award-winning field from different elevations. En route, enjoy drinks and snacks from the concession stands. Land each ball on the correct green for a par score; land it within a designated ring on that green for a birdie. After you complete your round, you'll likely want to head over to Victory Field's brand new Elements Financial Club for a post-round drink at the bar.
It's about time to get after it. We'll see you at The Vic beginning October 15!