Written by Visit Indy author Victoria Davis
---
There are many things I love about living in Indianapolis, with one of them being the easy access to local wineries. This winter is the perfect time to cozy up with a glass of adult grape juice and appreciate the wonderful things in life that we do have.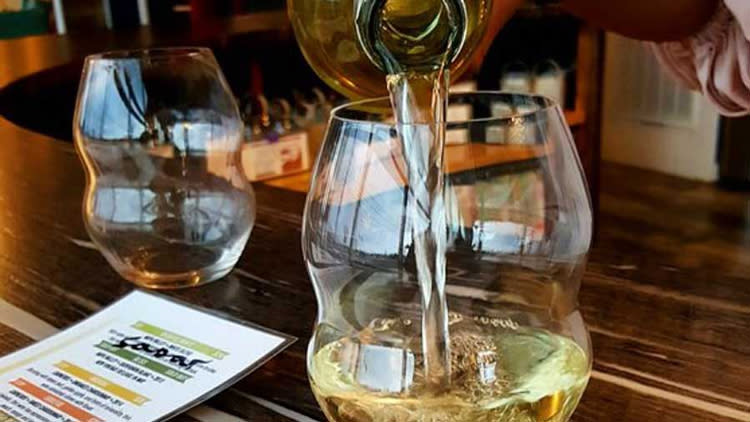 One of my goals this year was to visit as many local wineries as possible. While restaurants, bars, and wineries have had to get creative this year to keep doors open, there are endless places you can sip safely. Check out five of my favorite Indy wineries to visit this winter.
You haven't lived until your lips have met a bottle of Reggae Red from Easley Winery. (In fact, my best friend insists I have a bottle for her each and every time she visits Indiana.) While their tasting room is currently closed, that doesn't have to stop you from picking up curbside and rejoicing in the flavors at home.
Your next glass of wine could go toward a great cause when you sip at Peace Water Winery. This is the season of giving, right? Fifty percent of their net profits are donated to charity, both locally and across the world. Visit their tasting room in downtown Indy to discover your new favorite drink.
Handcrafted, vegan wines? Yes, please. Sip and Share Wines has a bottle to fit every palette and best of all, they have a bigger mission - to build community. This brand believes wine can help bring people together and create uplifting and lasting memories. The best part is, you don't have to leave your home to enjoy them. They offer virtual "Sip Speriences" and delivery. Try wine tasting at home with Sip & Share Wines.
You don't have to go far to experience a good pour in a cozy environment. Sugar Creek reminds me of a warm cabin in the woods just waiting for you to snuggle by the fire. Their walk-up counter lets you taste a variety of wines before deciding on your winning glass. They also have live music, board games, and trivia nights. Visit the tasting room for a good time.
Want to enjoy your wine inside an igloo or by the fireside? You have your choice at Urban Vines. You're welcome to rent a heated igloo to enjoy your bubbly while staying socially distant from other parties. Their award-winning menu has an array of options from wine to beer to charcuterie boards. Fill your glass at Urban Vines!