Maybe it's time for a little something new for you. Maybe you need to change your direction both physically and metaphorically. Whether it's to restore your health or help you find a little peace or simply a chance to meet friends for an hour of fun, the opportunities to get your "Om" on in Indy abound. Don't get all downward dog in the dumps, check out these great yoga stops in the Circle City this summer.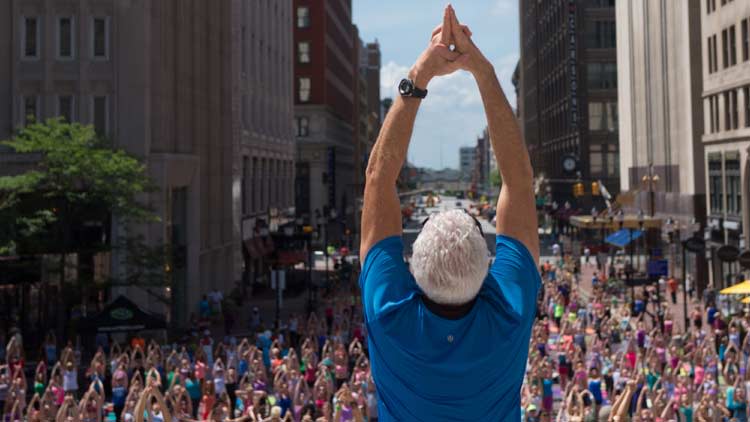 Stretch your body and soul with Indy's most iconic landmark in the background this summer at Monumental Yoga. On June 21 at 4 pm, join Indy's largest yoga class. The event is free, but you're encouraged to donate toward Mighty Lotus. Regardless of your skill level, pack up your yoga mat and water bottle and don't miss this amazing experience. Afraid you won't be able to see the front? Don't worry. Plenty of instructors will be interspersed through the area helping you hold the proper pose. 
---
What could be better than doing good while doing yoga? This summer, make the choice to support the efforts Growing Places Indy while also stretching your body and soul. Each Thursday, June through August, from 4-5 pm, head to the Boner Fitness and Learning Center. The class is free with donation ($10 suggest) and 100% of that donation goes back toward cultivating wellness in the Indianapolis community through urban agriculture, food access and awareness. Plus you can also pick a bite to eat at the Farm Stand. Refuel your body with a wide array of produce harvested that very morning. Do good, feel good, eat good food. What could be better? 
---
End the day with a restful pose near the waters of the Central Canal. Join sponsors CITYOGA at the Indianapolis Public Library's East Garden on July 10, August 14, and September 11 from 7-8 pm for a free yoga experience for adults. In case of rain, the class will be held indoors in the Nina Mason Pulliam Indianapolis Special Collections Room on the 6th floor of the library.
---
Breathe in the air of a new day each Wednesday morning from 6 to 6:45 am. Downtown Indy's free sunrise yoga class is taught by Invoke Studios. June 7 through August 31, you can flow before work. Registration is required, though! Go here to sign up.
 
Stretch your mind, body, and soul but luckily not your wallet this summer by checking out these fantastic yoga classes in Indianapolis.