In recent years, Fountain Square has hosted its fair share of cultural events, from vibrant arts showcases to late-night dance parties. This October, however, the vibrant Indianapolis neighborhood prepares for its biggest shindig yet as Fountain Square Music Festival (FSMF) returns in grand fashion.
Slated for October 6-7, the two-day music festival and immersive experience event will feature groundbreaking artists and local cuisine in historic Fountain Square. With a new, re-imagined format, the 2017 FSMF will allow artists and audiences to converge, thanks to immersive visual art experiences.
In addition to performances at various music venues throughout the popular Fountain Square neighborhood, FSMF will unveil its first-ever immersive outdoor stage as part of its commitment to unique audience experiences. THE NUCLEUS main stage will feature powerful lighting and production design elements to create a unique experience on popular Virginia Avenue, with customized visual installations for audiences to become intrinsic participants in an explosive atmosphere.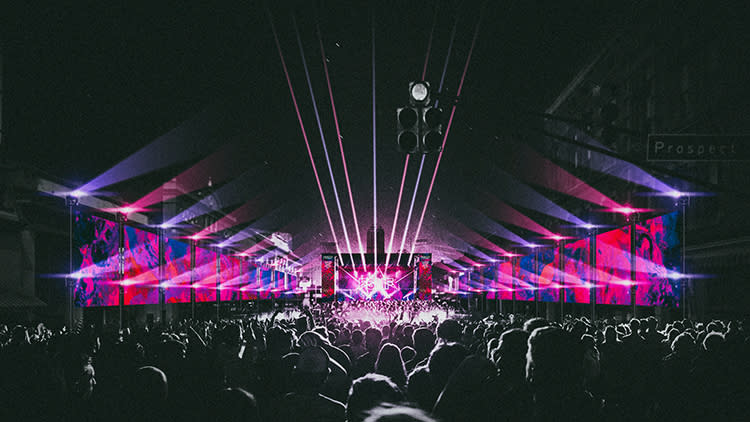 Now what about the music lineup, you say? This year's FSMF boasts the fest's most notable lineup to date, with acts that include Phantogram, Dr. Dog, Bishop Briggs, Real Estate, COIN, The Cool Kids, Why?, Richard Edwards, Welshly Arms, Flint Eastwood, Lily & Madeleine, Dan Luke & the Raid, Malcomb London, Warbly Jets, Okey Dokey, Arlie, Jake McMullen and BIYO. In addition to these nationally acclaimed artists, several emerging local acts will also perform at the festival, including Brandon Whyde, Clint Breeze and the Groove, Dream Chief, Ghost Gun Summer, Saint Aubin and many more.
"FSMF is a boutique, immersive music festival with a sole focus on ensuring new, unforgettable experiences for artists and fans. We want to bring them all together in unique performance environments unlike other festivals," said Jared Sparkman, producer at Absorb, a local partner for FSMF 2017. "The entire neighborhood and business community in Fountain Square has helped enable us to create this event, and we're honored to have their support of our vision to help make the event a fantastic success. Putting the festival together has been an amazing, organic experience."
To find a full listing of the acts performing, be sure to visit the Fountain Square Music Fest website, where you can also purchase tickets starting Friday, July 21 at 10 am.