Everyone in our entire family loves a great book. We each have our preferred genre. My daughter Zoe is a big non-fiction fan. A future paleontologist (a fact that she reminds of us nearly every day), this eight year old soaks up any book she can all about dinosaurs. Our 14-year-old Anna is the Queen of young adult. Her shelves are lined and she can make a book recommendation at the drop of a hat. She reads several books a month and often several books a week. Her Instagram channel Indy Anna Books shares some of her favs. My husband Brian can most often be found with his nose in a theology or business book. 
And me? I LOVE a good memoir. Throw in some historical randomness like a history of salt or little known characters of the primary narrative, and I'll be lost for weeks. 
A fun family night for us might mean that we literally don't talk to each other and become absorbed in our own separate worlds. For this reason, sometimes we like to take our reading show on the road. We look for stores we can browse, libraries we can peruse, and quiet spots where we can settle in, enjoy the view, and soak up the words on the page. 
Indianapolis loves readers. The Circle City is filled with plenty of places where you can lose yourself inside of a page turner. When you visit, don't miss these five great reading spots in Indy.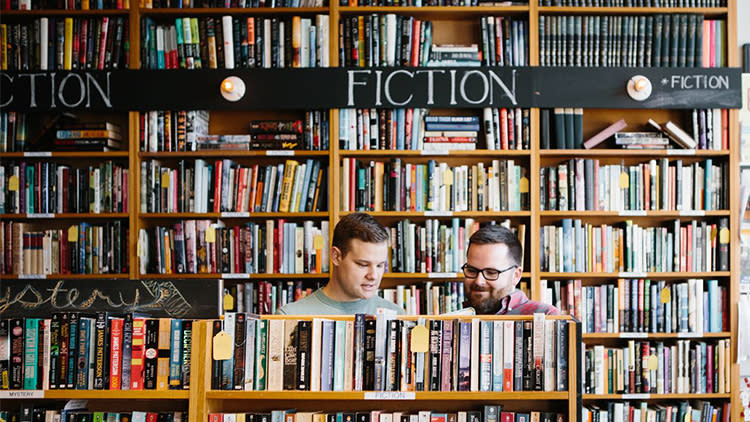 I love spending my dollars at retailers who make a difference. Independent bookseller Indy Reads does just that. The nonprofit bookstore is located in the cultural hub of Mass. Ave. From story slams to poetry readings to author chats and musical performances, there's almost always something interesting to learn at Indy Reads. Plus you'll find a large selection of new and used books for purchase, too. 
The perfect blend of modern and historic, the Indianapolis Public Library's Central library is one of the best reading destinations in town. From fantastic free programming to an incredible large collection of books and media, you can hear concerts, meet authors, see films, and so much more at the Central Library. Get a great view of downtown, enjoy the lovely children's area, and take in the original 1917 architecture. Then find yourself a comfy chair and read away.
The card catalogue room of the Indiana State Library is one of the most beautiful sites this little bookworm has ever beheld. The entire building is bedecked with beautiful 1930s design and artisanship. From the Great Hall and its breathtaking staircase to the handcrafted walnut shelves of the History Reference room, your inner nerd will jump for joy at every turn. You can learn a little Indiana History in the special exhibits, take a peek at rare books, and even get a free tour of the entire building. 
I'd be in big trouble with my girls if I didn't add Kids Ink Children's Bookstore in Broad Ripple to the list. The youngest of readers all the way up to adults will find their special collection of books to be fantastically displayed and fancifully arranged. If you're looking to treat your kids or yourself to a new book, you won't want to miss the selection here. Oh and by the way, you can treat yourself to a little sweetness next door at The Flying Cupcake, too! We love the gluten free, raw choices at this particular location of this Indianapolis based sweet shop.
If you love to read while soaking up the warm sunshine, head to the Canal Walk in downtown Indianapolis and find an empty bench. The hours will slip by as you enjoy your book and the lovely environment, too!
No matter your genre or your reading pleasure, Indianapolis offers a wide variety of destinations to let you relax with your next book. I'd love to know what other reading hot spots we should visit in Indy. Leave your favorites in the comments below.