The title "Indy Ultimate" is no joke.
Ever have the chance to kick a field goal at Lucas Oil Stadium, run the bases at Victory Field, shoot a layup at Gainbridge Fieldhouse, or kick a goal at Michael A. Carroll Stadium? The 2022 Indy Ultimate lets you do all this and more as you walk or run your way through the most iconic sports venues, cultural sites, and landmarks Indianapolis has to offer the morning of September 10.
If that's not enough for you, the course has enough memorabilia to keep a fanatic busy. When you're done kicking your field goals, you'll get to explore the Jim Irsay Collection and see musical instruments owned and used by some of the greatest artists in music history, including Bob Dylan, The Beatles, and Prince. Sports fans will get their fix too as you'll also see iconic items throughout sports history like Jackie Robinson's bat and Muhamad Ali's first fight robe.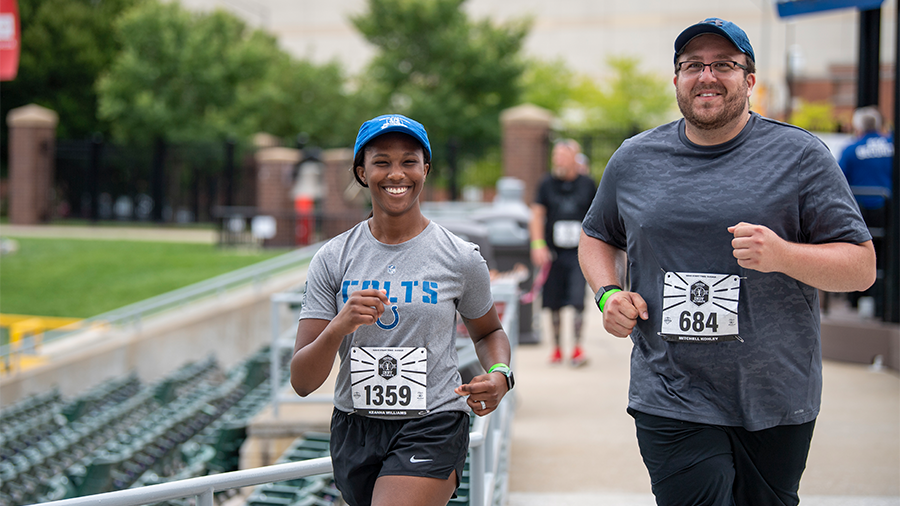 Indy Ultimate isn't just about all the cool sports activations through. This year's route takes you through the Indiana State Library and Indiana Statehouse, two hidden architectural gems in downtown Indy. With those stops plus a skyline photo opportunity, you're sure to have Instagram worthy pictures after you've crossed the finish line.
All registrants receive a free Indy Eleven ticket, Adidas tee shirt, finishers medal, and bragging rights that last the whole year round. Have I mentioned the referral program? Bring your friends along and save some money on your registration as you try and work your way up for a shot at two tickets to the 2022 Big Ten Football Championship Game.
2 Referrals - Receive $5 off your entry fee
5 Referrals - Receive $20 off your entry fee 
10 Referrals - Full refund of your entry fee AND be entered to win an Indy Ultimate Weekend
Top Referrer - 2 tickets to the 2022 Big Ten Football Championship Game
Don't miss this great opportunity to live out your childhood dreams, spend time with some family, or just get in your steps as you enjoy the end of this summertime weather. Forget a total package, this run/walk is truly the Ultimate package.