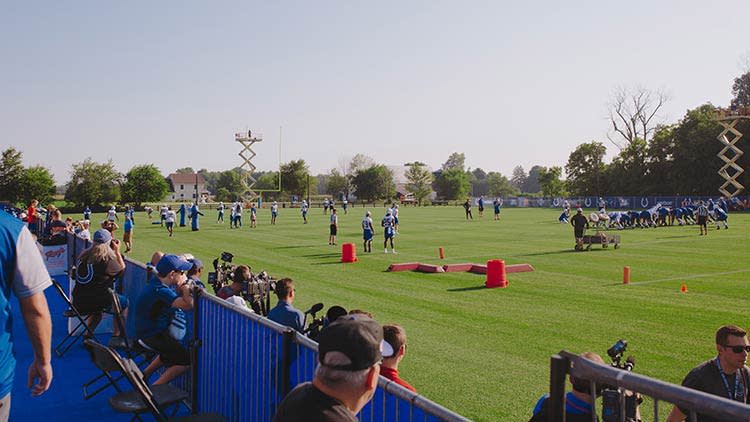 Remember last year when NFL pundits had the Indianapolis Colts ranked dead last in their Power Rankings (I'm looking at you ESPN)? Coming off a horrific campaign the year prior with a quarterback whose health was a mystery, there was little hope of being competitive. Throw in a new coach and GM, and there were question marks everywhere. Then, something special happened. The Colts didn't win a championship, but making the Divisional Round of the playoffs sure felt like a victory.
As we enter the 2019-20 season, the future is oh-so bright. Coach Frank Reich and GM Chris Ballard are a dynamic duo that the team, and the city, believe in. Andrew Luck has an offensive line that ranks among the best in the league, and with time he absolutely carves up defenses. Speaking of defenses, the Colts finally have an identity behind the passion and leadership of Darius Leonard. All signs point to a promising upcoming campaign, and those same power rankings that had the Colts ranked 32nd last year have them ranked 5th heading into the upcoming season.
The excitement is palpable. While the preseason doesn't kick off until August 8 (first home game on August 17), fans can get their football fix beginning today. Can I get a hallelujah? Dust off your jersey and get to Grand Park in Westfield for a fan-friendly training camp experience on select days between now and Thursday, August 15.
Our friends at Visit Hamilton County pulled together this list of Things to Know when attending Colts Training Camp:
Admission is free, but all fans need a ticket to enter.
NFL's "Clear Bag Policy" is in effect in all areas that require a ticket. Check that your bag or purse meets requirements.
Visit Colts City, a family-friendly activity zone open each day practice is open to the public. The area includes a Play 60 Zone, inflatables, 40-yard dash, Colts in Motion traveling museum, Colts Pro Shop, and more.
Check out the themed days and special events, like Kids Day, Armed Forces Day, First Responders Day, Sunrise Shred, and more.
Prior to the August 17 preseason game, the Cleveland Browns will join the Colts for a joint practice August 14 and 15. This is your chance to see not one, but two NFL teams scrimmage and practice together.
You can drive to camp, but it's more fun to ride. The Monon Trail provides a direct path from Indy to training camp. Get up close with this team, scout the rookies, and get into Colts football. They surpassed expectations last season, and there is no reason to believe they can't do it again.
Photo courtesy of Zachary Raber.