It's like taking the game winning shot with a crowd cheering you on…
It's like training with dedicated teammates for a common goal…
It's like giving your all on 4th and 1…
It's the excitement felt when the trophy is one play away…
It's like having a team you can count on…
It's like doing what you love…
Every day.
When I first got into college sports, I had no idea what I wanted to do with my career. All I knew was that I loved the game. I loved the college seasons and I loved national championships. From there, I got involved and now, college sports have impacted my life in more ways than one. I've made lifelong connections, lifelong memories, and developed a lifelong passion for change. This prompted my involvement with the 2022 College Football Playoff (CFP) Indianapolis Host Committee and their new initiative: Expanding the Goalpost.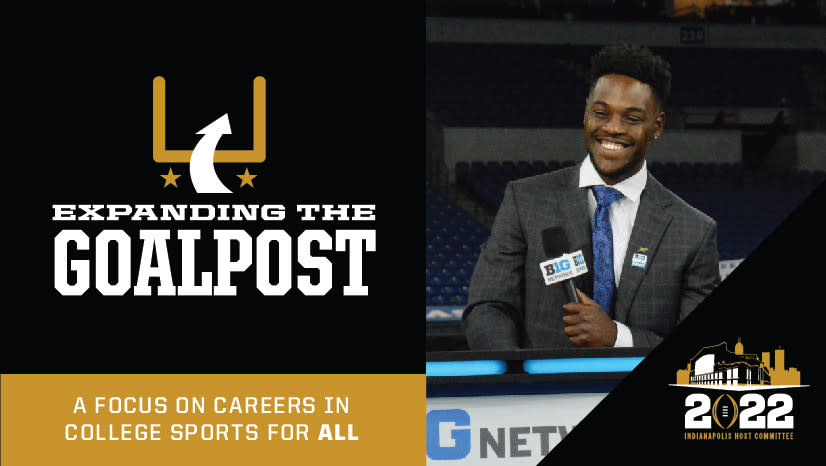 Expanding the Goalpost is a program designed to increase awareness amongst Indianapolis-area high school students of career paths in college sports, specifically amongst ethnic minorities. As part of this initiative, sports professionals within the Indianapolis community are visiting local high schools through career fairs and classroom panels to inform students about the benefits and opportunities within athletic careers.
"I would encourage anyone (former athlete or not) to pursue a career in college sports. My career in athletics has afforded me the opportunity to trave across the country and create lifelong friendships. As a member of the NCAA men's basketball staff, I feel that I work on the best sporting event in the country." – Bradley Taylor, Assistant Director, Men's Basketball, NCAA
This initiative exists to broaden the horizon of high school students who are passionate about sports but are not sure how to make a career out of it. If you or someone you know finds themselves here, click here to complete the contact form and a program advisor will connect with you on next steps and ways to get involved.
To learn more about Expanding the Goalpost, visit one of the resources below:
Click here to download program brochure
Click here to view program promotional video (Courtesy of Ben Davis University Students)