There are a handful of photos of my girls that I will treasure my whole life long. They capture a moment in time when their youthful joy bubbled to the surface and awestruck wonder filled their eyes.
I'd love to tell you that these photos featured my daughters looking up at their mama or their daddy in admiration. However, the common thread between the pictures from different times and places is that they featured people we didn't even know - at least kind of. You see, facial recognition wouldn't be able to tag the other individuals in the photos. Because the eyes and smiles of their object of affection were obscured by large character shaped heads.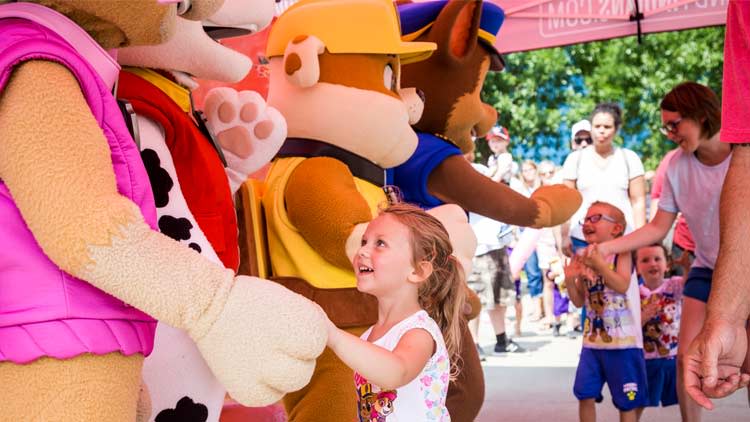 We stood forever and waited in line to meet their heroes - PBS favorites like Curious George and Word Girl (Word Up!) and Disney superstars like Winnie the Pooh and Piglet. And those photos never disappointed as the girls tackled those characters with sheer delight in an all out hug. This summer, you don't have to travel far to meet your favorite characters.
You only need to take a trip to Indy's favorite ballpark Victory Field for one (or more) of many Special Character Nights. There are even a few favorites who moms and dads will be just as excited (or more) to meet than the kids.
The fun kicks off this Friday night on May the 4th: Star Wars Night! It's an all out geekfest as Darth Vader and his Stormtroopers search the stadium for Rebel Scum. Grab a selfie with a Jedi or the Empire depending on your appeal to the Dark Side. Enjoy special activities and music from the famous films all night long! I don't care how old you are, that's some amazing fun.
You'll see from the upcoming schedule, there's something for kids of all ages and every taste. From the preschool crowd and the likes of Peppa Pig, PJ Masks, the Very Hungry Caterpillar, PAW Patrol and more, to sports fans with the Colts at Bat and Father's Day Catch - the special opportunities don't stop all summer long. There's even an opportunity to meet Ben Higgins from The Bachelor.
As an added bonus, many of special character nights coincide with Kids Eat Free Sundays. Children 14 and younger receive a voucher for a free hot dog, bag of chips and bottle of water!
Mark your calendar NOW for an evening of family fun and photo ops!