Indy is home to some of the best venues in sports and plays host to big time sporting events time and time again - it's no surprise the city has been deemed the 'amateur sports capitol of the world'. From Final Fours and Pacers to Hoosiers and Hinkle Fieldhouse, big things happen here - and next up is the Crossroads Classic. The four most storied basketball programs in the state head to Bankers Life Fieldhouse on Saturday for the annual showdown of Hoosier Hysteria.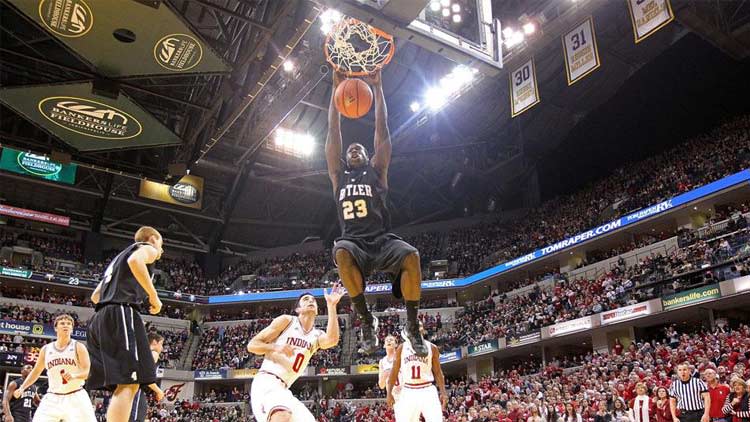 2017 has already proven to be a big year in basketball for the Circle City, as we hosted the annual Big Ten WBB Tournament in February, NCAA Men's Regionals back in March and a surge of excellence of late with the Indiana Pacers. Let's dig into the action this weekend in Indy.
Purdue vs Butler 12 pm 
Purdue 10-2
Purdue has won six straight after back-to-back losses in the Battle for Atlantis. Two of those wins came against then #2 Arizona and then #17 Louisville. Purdue hasn't beat Butler since I was four years old, but the Boilermakers are arguably the hottest of the four at the moment. This team will give Butler all they can handle, and maybe a little more. 
Butler 8-2
The Dawgs are on a roll right now, as their five game win streak includes a statement win over a solid Utah squad and an emotional victory over Ohio State and BU's former leader, Chris Holtmann. Butler is 5-1 all-time in the Crossroads Classic and has beat Purdue in each of their three matchups. 2017 was flagged as a 'rebuilding year' for the Dawgs, as they were projected to finish 8th in the Big East. Never count out the Bulldogs. 
---
Notre Dame vs Indiana 2:30pm
Notre Dame 8-2
After a strong start to the season, the Fighting Irish have dropped two of their last four as they hit the road to take on the Hoosiers. ND rose to as high as #5 in the country after knocking off Wichita State in Maui, but Mike Brey was seemingly too relaxed (google Mike Brey Maui and you'll see why) as they went on to get throttled by MSU in the Big Ten/ACC challenge before falling to in-state foe, BSU at home. Notre Dame is 18-42 all-time against the Hoosiers but 2-1 when they face off in the Crossroads Classic. 
Indiana 5-5
2017 IU leaves a lot to be desired, however there's nowhere to go but up! They've already racked up 5 losses and head into the weekend at .500...not quite the start Archie Miller was looking for in his first year with the Hoosiers. With their best win being over Eastern Michigan, the team is in need of a marquee win in Indy.
---
Make it a Weekend
If you don't have tickets to the big games, check out some of Indy's best sports bars and take a gander through the NCAA Hall of Champions. 
Basketball is always a good reason to head to Indy, but while you're here, there's all sorts of other buzz to check out including holiday attractions, seasonal shows, the new Star Wars in IMAX and Hoosier-favorite, Straight No Chaser at the Old National Centre. Maybe come a day early and catch the Pacers vs Pistons on Friday night or make it a weekend and watch the Indy Fuel vs Fort Wayne Komets on Saturday after the Crossroads. 
Best news for those looking at an Indy getaway, hotel rates are amongst the lowest we've seen all year, starting at just $109 at the Hyatt Regency downtown. 
What are you waiting for? Get out there this weekend and make it happen.