The College Football Playoff (CFP) is much bigger than just the game of football. The second weekend of January is filled with grit, glory and greatness and will include numerous family-friendly events and activities, several of which are in support of education initiatives.
Registration is now open for the Extra Yard 5K, set to take place over CFP National Championship weekend on Sunday, January 9. Fans will get a true taste of Indianapolis as they make their way through the spirited 3.1-mile course in downtown Indianapolis.  
Runners can register for the event at ExtraYard5k.com, where teachers are able to register for just $10 while tickets for the general public start at $30 and increase to $35 on October 26. All proceeds will benefit the CFP Foundation's Extra Yard for Teachers programming in support of PK-12 education across the country.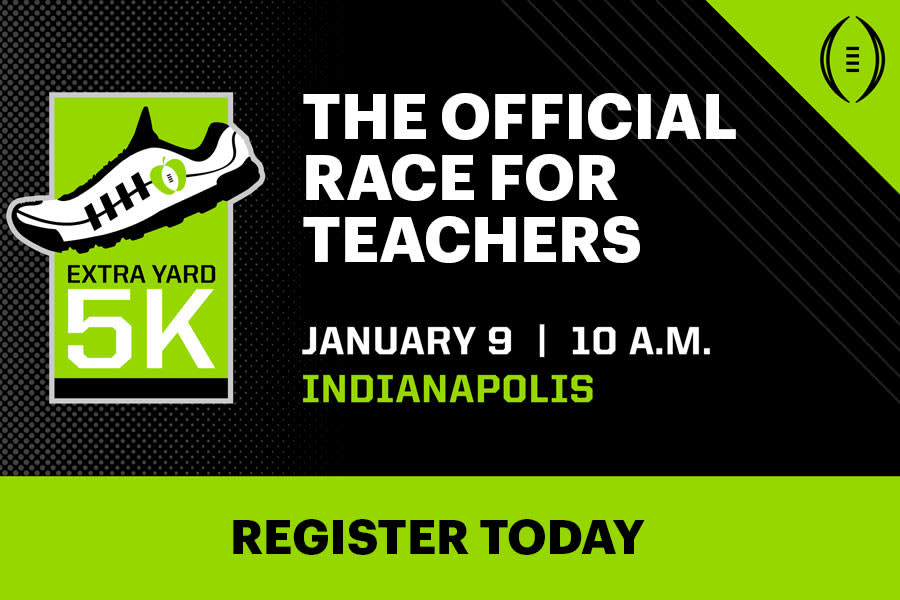 Each Extra Yard 5K participant will receive a t-shirt and a medal, while the top overall male and top overall female finishers will each win two tickets to the 2022 CFP National Championship, slated for Lucas Oil Stadium on Monday, January 10.
Supporting teachers is as easy as taking part in the Extra Yard 5K, as all proceeds from this event benefit Extra Yard for Teachers programming. With the goal of supporting educators and students, initiatives like the CFP Extra Yard 5K will provide funding that goes directly to support educators.  
Alongside the Extra Yard 5K and the CFP National Championship, a multitude of additional events will come to Indy over national championship weekend, including Playoff Fan Central, AT&T Playoff Playlist Live!, Allstate Championship Tailgate, Taste of the Championship and the Extra Yard for Teachers Summit for local Indiana educators.