Indy was poised for an incredible year. We graced Forbes' list for "Best Places to Visit in 2020" and recently celebrated a record-breaking 30 million annual visitors which brought in $5.6 billion in economic impact. 
Our #SpiritOfTravel was alive and well. And then. Well, we all know what happened next.
Doors locked and bar stools were flipped upside down, only to remain that way for weeks. The "#1 Convention City in the U.S." (USA Today) couldn't show off its Hoosier Hospitality. And, the record-setting 83,000 men and women who depend on tourism for a paycheck quickly felt its impact.  
As we kick off the U.S. Travel Association's National Travel and Tourism Week (May 3-9, 2020), an annual celebration of an industry that generates $2.6 trillion in economic impact nationally, our celebration looks a bit different. Now more than ever, the travel and tourism community must come together, support each other and remind our country that even through the most difficult times, the spirit of travel cannot be broken.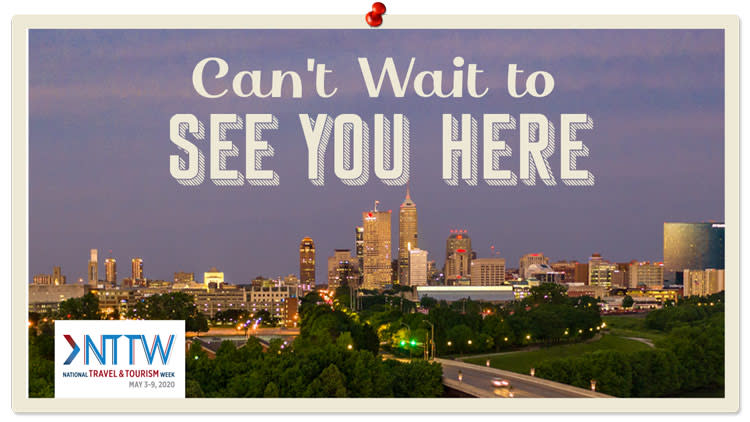 Ways to Uplift National Travel and Tourism Week  
Share the #LoveIndy and post a video of you answering, "The first thing I'll do in Indy when life returns to normal is _______." 
Host a Zoom happy hour using Circle City inspired backgrounds. 
Support the hospitality community financially by donating to a relief fund, ordering carryout, and more. 
Experience the things you love about Indy from home. 
Add a special #LoveIndy frame to your Facebook profile.  
Simply help spread the message on the importance of tourism, by sharing this suggested post on your social channels:  

In honor of National Travel and Tourism Week #nttw20, we're celebrating the 83k men and women in Indy who depend on tourism for a paycheck. Learn how you can help @VisitIndy share the #SpiritOfTravel bit.ly/2yyLCK4
Right before the COVID-19 pandemic affected the country, Indy had the opportunity to gather the community to celebrate over 70 hospitality workers who exude service excellence in all aspects of their job. Of those 70, we awarded eight individuals with the coveted ROSE Award (Recognition of Service Excellence), including Baba Diop of IndyGo bus transportation. His beautiful personality is driven by faith and his belief that it's his duty to be kind to others. He smiles at everyone and takes care of his work family as well as the 750,000-plus passengers who ride monthly. Once on his route he noticed a man struggling with a manual wheelchair daily. Baba located just the right chair to help him, bought it with his own money, and improved this man's life immensely. Baba has worked with IndyGo for 10 years and has been in the hospitality industry for 15.
Your support of the travel and tourism industry benefits not only Baba, but the 83,000 men and women who make up our service industry. Until our doors re-open and travel resumes, please consider sharing the #SpiritOfTravel to inspire future visitors.