As today is National Hot Dog Day, you may be craving a delicious hot dog, covered in your favorite condiments. Now alongside favorites like ketchup and relish is new line of condiments prepared right here in Indianapolis that you can slather all over your breakfast, lunch, or dinner dog. Plus, it comes backed by a name synonymous with eating hot dogs, dozens at a time.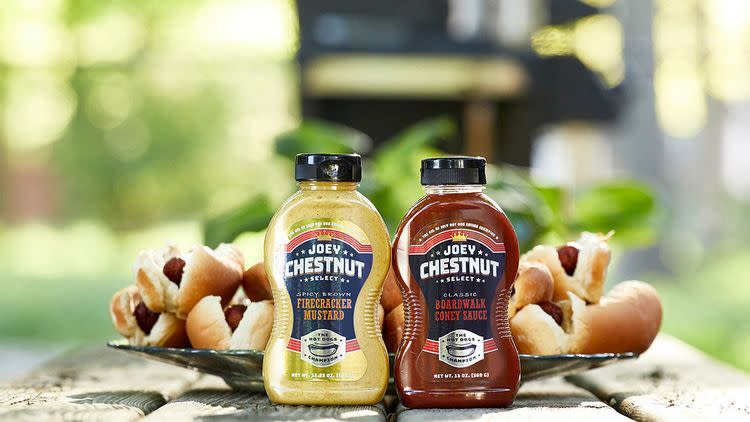 Joey Chestnut, world-famous competitive eater, has launched Joey Chestnut Select, a line of condiments that make a perfect addition to National Hot Dog Day. Naturally, the condiments also go well with sausages, brats, sandwiches and more, but hot dogs hold a special place in Chestnut's heart and stomach.
"I have the greatest job in the world and my life revolves around my love for food – particularly devouring hot dogs," said Chestnut, founder of Joey Chestnut Foods, which owns the Joey Chestnut Select line. "This love led me to develop a line of high-quality, American-made condiments created specifically for America's most beloved foods."
You can indulge in three flavors: Spicy Brown Firecracker Mustard, Classic Boardwalk Coney Sauce and Deli Style Brown Mustard. While they're packaged locally, the mustards and coney sauce in the condiment line are currently only available for purchase online. Savor National Hot Dog Day with a brand new favorite flavor!