Combine stylish hospitality with classic, Art Deco design - and you get Bottleworks Hotel. Opening in just one week on December 15, this luxury accommodation is the main focal point of the new Bottleworks District, a new, 12-acre neighborhood on the northern end of Mass Ave.
Originally known for the Coca-Cola Bottling Plant, which began packaging and distributing the beloved soda as early as the 1920s, the building was a delightful juxtaposition of manufacturing Americana and the art-deco aesthetic that lives on today.
Yet in the late 1960s, the plant was passed off to a series of tenants, almost allowing the stunning building to lose its charm.
Fast forward to 2020, and the building has been repurposed to its former glory as the Bottleworks Hotel. With 139 rooms, 13,494 square feet of meeting space, a full-service bar, Asian-inspired restaurant, nail bar, and more, the hotel anchors the 1920s Coca-Cola Bottling Plant into the 21st century.
To pay homage to the districts' predecessor, Bottleworks Hotel is rehabilitating the previously empty plant into a stylish new destination for residents and visitors alike. Developers maintained the original façade and Art Deco tiled designs, meaning when you book a stay at Bottleworks Hotel, it will truly feel like you are living it up in the 1920s (with some added luxury built-in).
Each room is designed in that same Art Deco inspiration, with bold lines, sophisticated furnishings, and bathrooms fit with bathtubs that would make anyone jealous of your relaxing stay. And, with additional perks such as gorgeous downtown views and striking fixtures, this hotel is next-level when it comes to downtown accommodations.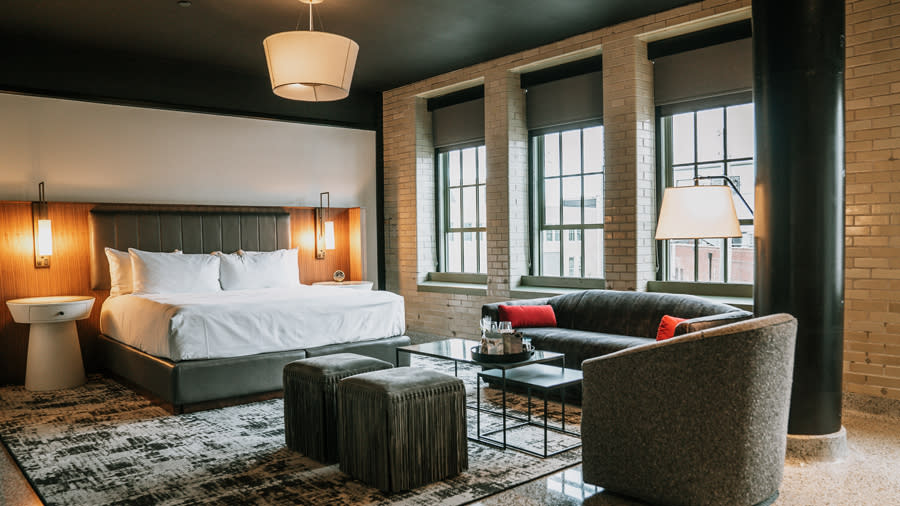 But what really allows Bottleworks to stand out is the location. It's just steps from the booming energy of Mass Ave, where local favorite shops and eateries reside. Or, just across the way from the hotel itself, you'll find The Garage food hall bringing a variety of culinary styles and over 20 vendors including an oyster bar, Hard Truth Distillery, and retail like Becker Supply Company, an outdoor apparel shop. Aptly named, The Garage Food Hall occupies two of the bottling plant's original garage buildings.
So, treat yourself and your loved ones to a night at this new downtown Indy gem, and be a part of keeping the tradition of the Bottleworks District vibrant for years to come.