Only a handful of sounds can bring a smile to my face. The adorable giggle of a baby. The voice of my loving husband saying, "Hello, darlin'." Voices united singing sacred songs I learned as a child.
And the squeak of a sneaker on the hardwood floor at a basketball game.
I may or may not have clapped my hands in glee the last time I heard that precious noise.
In Indy, we don't just love basketball, we know basketball. As the days on the February calendar fly off in rapid sequence, it can only mean one thing – it's time for the sweet sounds of shoes on hardwood as players hustle for that one last rebound, one last shot, one last play to make or break a game.
March 2nd – 6th and March 10th – 13th mark the the best days of the month in the Circle City. It's about to be all about the hoops. The NCAA Women's and Men's Big Ten Tournaments roll into town. With the players and coaches and fans come a host of phenomenal events for sports fans to partake. Here's what you need to know before you go.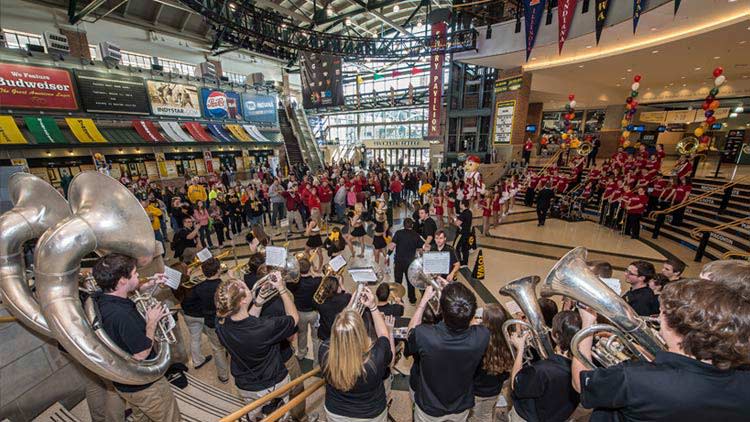 Traveling from afar to visit our fair city? Check out a number of great hotel deals and book your stay now. Stay close to the action and festivities. Indy is incredibly navigable by foot, with hotels, restaurants, and sporting venues connected by both indoor and outdoor walkways. Special rates are available for the Women's and Men's Tournaments, too.
---
The Big Ten is more than a spectator sport. Girls in 4th to 8th grade can sharpen their skills at free clinic at Bankers Life Fieldhouse.  
---
Pep Rallies
Show that team spirit! Check out the amazing pep rally events for the Women's and Men's teams who make it to the final round. The events include live entertainment, band and cheerleader performances, FREE popcorn, soft drinks, even face painting, and much more.  
---
Home Turf Restaurants
Sometimes you want to go where everybody knows your mascot's name and team fight song. Find out which restaurants in downtown Indy have been paired with what team for the Women's and Men's events:
Illinois: Ram Restaurant & Brewery
Nebraska: Granite City
Penn State: Harry & Izzy's
Purdue: Scotty's Brewhouse
Wisconsin: Cadillac Ranch
Indiana University: Kilroy's Bar & Grill
Ohio State: Champps
Michigan: O'Reilly's Irish Bar and Restaurant
Michigan State: Slippery Noodle Inn
Iowa: Indianapolis Colts Grille
Northwestern: Champions
Minnesota: Hard Rock Café
Maryland: Buffalo Wild Wings Grill & Bar
Rutgers: Ike and Jonesy's
---
The Men's tournament features a special running event. On Saturday March 12th, support your team in the Hoops Day 5K.
---
From professional networking for athletes at the Big Ten Career Expo to the opportunity to give back with Big Ten Thinks Pink, from the Big Ten Big Party to exclusive VIP Ticket Packages, you need to do your homework NOW and mark your calendar for all of the amazing that is basketball in Indiana.
Bring on the pep bands, the cheerleaders, the buzzer beaters, and amazing three point shots. Bring on the roar of the crowd, the faithful colors of your team, and the fourth quarter rally. But most of all, bring on the sound of those shoes.