I came of age as an Indiana Pacers fan during the height of the Reggie Miller Era. There was eight points in nine seconds and the countless playoff battles with the Knicks. There was the shadow of Jordan's Chicago Bulls teams. There was the Finals run against Kobe and Shaq in their prime. The games were magical and, at times, heartbreaking. In the process a city fell in love with an athlete, and he paid it back. He was our guy.
Reggie's legacy will forever be immortalized in Indy thanks to a six-story tall mural by Pamela Bliss (127 East Michigan Street). Reggie joins the ranks of Kurt Vonnegut (painted by Pamela Bliss) and poet Marie Evans (painted by Michael Alkemi Jordan) as larger-than-life civic icons that can be found in or near the Mass Ave Cultural District.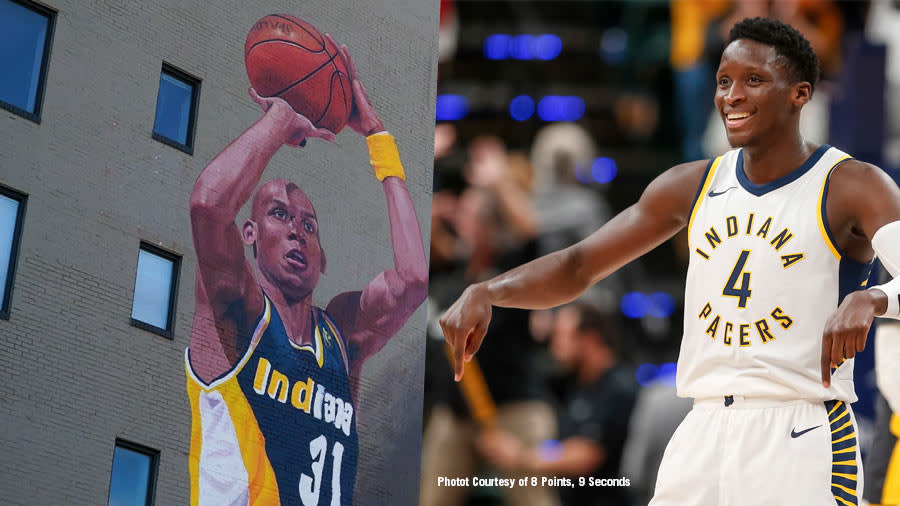 Tonight, a new legacy begins.
Last year, Victor Oladipo and Domantas Sabonis came to Indiana in a trade for Paul George. The world chimed in and painted Kevin Pritchard and his team as moronic for getting so little in return for our All-Star. At the time, I agreed.
Fast-forward, and the Pacers are coming off of a 48 win season and pushed the Lebron James-led Cavaliers to seven games. The journey galvanized a team and a fan base. Victor Oladipo became the face of the franchise. He declared that this was "his city" and we joyfully handed him the keys.
Tonight, the Pacers tip the 2018-19 season against the Memphis Grizzlies and optimism abounds. This is the start of an era. The core of this team is young and hungry. Oladipo has the potential to raise his game to yet another level. Myles Turner just got a four-year extension and wants to solidify himself as one of the best big men in the game. Sabonis, Bogdonovic, Young, and Collison have all gelled as teammates. 
We subtracted fan-favorite Lance Stephenson, a sporadic player who was both an energizer and distractor. We added Tyreke Evans, a 20/5/5 guard who quietly puts up numbers. We added Doug McDermott, a constant 3-point threat. We added Kyle O'Quinn, a tough guy who defends and rebounds. We drafted a future point guard in Aaron Holiday. These are all pieces we needed, and we got. 
If you can't tell, I am excited for Pacers season. You should be too. This new era is going be a ride that you won't want to miss. Watching at home is great, but you can't beat the best basketball arena in the land for the true experience. Get tickets today and I'll see you at Bankers Life Fieldhouse. Go Pacers!