As the Indiana Pacers forge ahead with their 2020-21 season, the blue and gold are excited to be welcoming fans back into Bankers Life Fieldhouse, in a safe and orderly fashion.
With more than half of their season yet to go, the Pacers are looking to make another solid run into the NBA playoffs this year with the help of their hometown fanbase. In light of the COVID-19 pandemic, several protocols are in place at Bankers Life Fieldhouse to ensure the health and safety of all game attendees.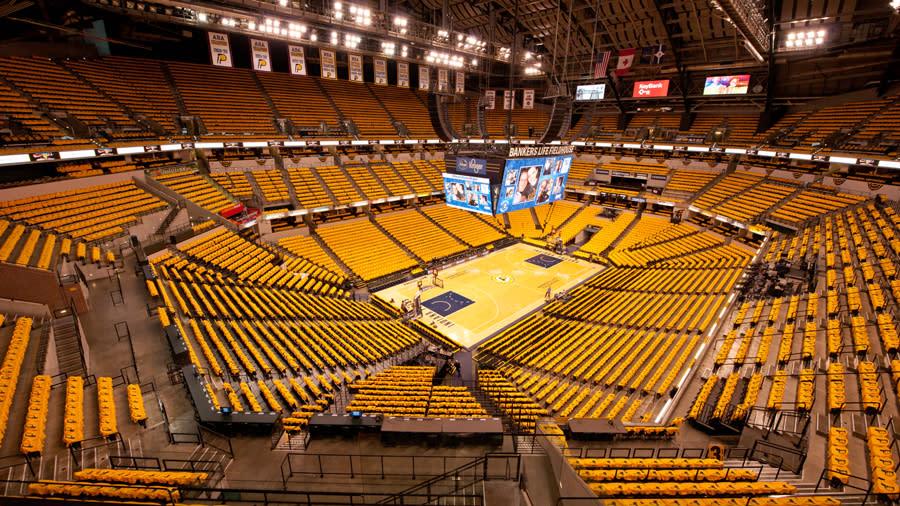 Staying Safe at Bankers Life Fieldhouse
Bankers Life Fieldhouse has numerous protocols in place to ensure game attendees stay healthy and safe. Before attending a Pacers game, fans are asked to fill out these COVID-19 screening questions. You will then be asked to show confirmation of answering these questions prior to stadium entry.
Capacity is limited at Bankers Life Fieldhouse to ensure fans are seated safely apart. While at the stadium, masks are required at all times, and fans are asked to maintain physical distancing of six feet. In order to keep contact at a minimum, all tickets to games are digital, and Bankers Life Fieldhouse now operates as a cashless facility.
A Renovated Fieldhouse
Over the past several months, Bankers Life Fieldhouse has received a facelift, as part of Phase 1 renovations of the Fieldhouse of the Future project. Fans returning to the building can expect a larger, center-hung scoreboard, new seating and much more.
Bring the Energy
Although there may be less fans in the stands, the live-game energy is still alive and well at Bankers Life Fieldhouse. Enjoy all the same sights and sounds of a regular game (with a little crowd noise piped in through the P.A. to keep things extra loud). During each game break, the Pacers' on-court emcees keep the house a' rocking, with all your favorite interactive games and entertainment as well.
Some New and Old Faces
The Pacers are yet again fighting for a spot in the top of the NBA's Eastern Conference. The blue and gold are now led by new head coach Nate Bjorkgren, who brings a spirited approach to the game while also holding strong to the franchise's storied, small-town grit.
After his first All-Star campaign in 2020, big man Domantas Sabonis is back with a vengeance this season, dominating opponents in the paint. Alongside Sabonis, the team is led by familiar faces in Malcolm Brogdon and Myles Turner, with new addition Caris LeVert expected to make a splash once he returns from injury.