The Pigeon and Pals! A Mo Willems Art and Play Exhibit opened with a smash and will remain at The Children's Museum of Indianapolis through May 10, 2020. Mo Willems is a popular children's book author and illustrator best known for his characters, Elephant Gerald and Piggie, Knuffle Bunny and The Pigeon.
Willems intentionally created simple illustrations of these characters so that children could easily replicate them in their own creations. There are plenty of places to do this in the new exhibit that explores art and play. Admission to The Pigeon and Pals exhibit is included in admission to The Children's Museum of Indianapolis.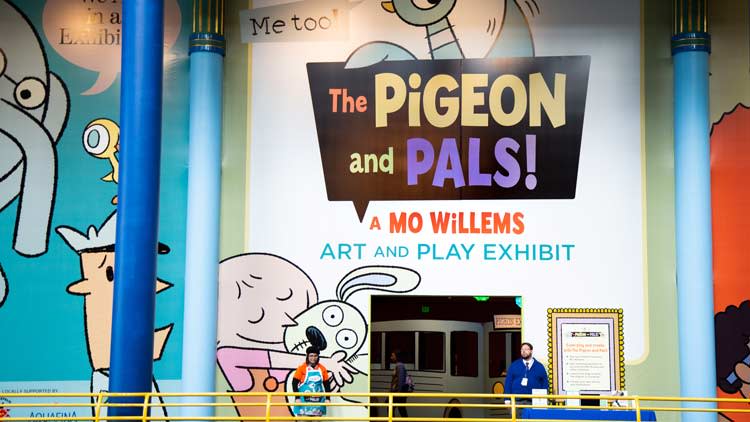 1. It's highly engaging and hands on, perfect for the preschool set. Kids can run around, laugh, dress up, move things and touch many things. Most of the things in the exhibit are meant to be touched and enjoyed with most of your senses, ideal for those little ones.
2. In addition to appreciating the opportunity to play alongside their children, adults will enjoy the art side of the exhibit. A large collection of Mo Willems' drawings from all 25 of his books are displayed in the gallery section of the exhibit.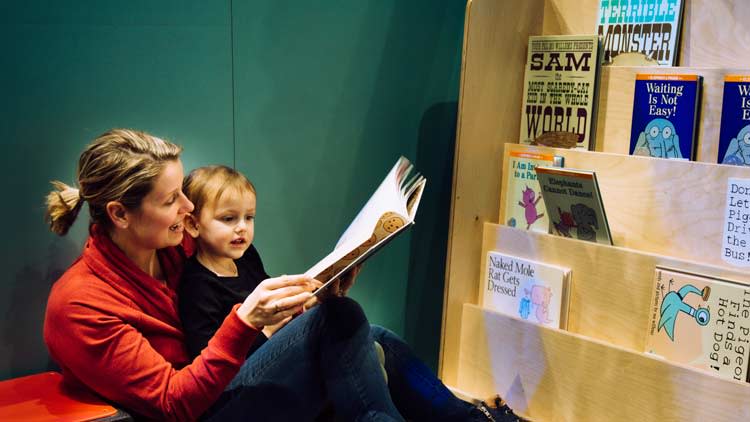 3. This is a bilingual exhibit. All signage and activities are written in both English and Spanish to appeal to even more guests. The Mo Willems books in the exhibit are available in English and Spanish too!
4. There are fun workshops in The Studio space. All ages will appreciate learning the art of storytelling, creating a story and learning to draw the pigeon and his pals. Workshops and activities in The Studio are included in your admission, free tickets are available within the exhibit prior to the activity time.
5. The stations include both active and quiet activities. Stack giant blocks, fling hot dogs, spin the clothes dryer to search the laundry and zip around wearing a bus costume. Or if you prefer, snuggle up with a book for story time, watch Elephant and Piggie in an animated short and inspect the art gallery.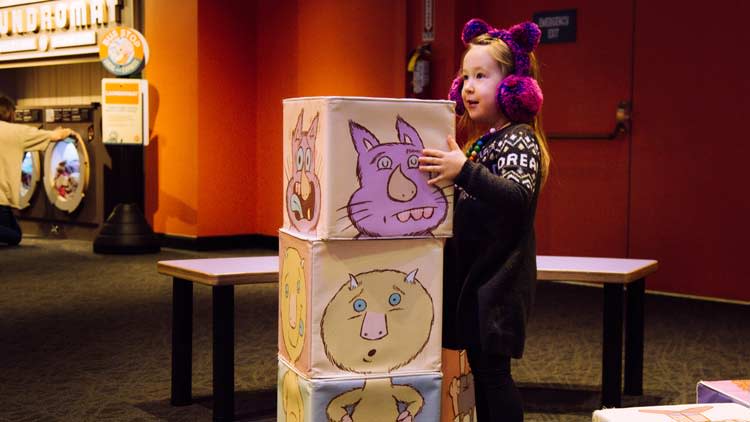 6. Pigeon and Pals encourages kids to have gratitude towards those in the community. The Thank o Rama wheel and wall inspires visitors to write a thank you note to someone selected by spinning the wheel.
7. The light tables for tracing Elephant, Piggie and their friends will show kids how easy it is to create something and then a wall with frames gives them a space to show off their masterpieces. A large table covered in butcher paper provides a space for guests to freehand their own characters.
8. Guests will become Elephant or Piggie using a throwback voice changing station...a payphone.
9. Shop from a large selection of Mo Willems character merchandise in The Store on the main level of The Museum.
There are so many more reasons to adore The Pigeon and Pals! A Mo Willems Art and Play Exhibit at The Children's Museum of Indianapolis, but you'll have to visit to find them all. Plan your visit in advance to save money on admission.