It is no secret that potato chips are a beloved snack food. In fact, Americans love potato chips so much that when rations threatened the production of potato chips in World War II, we protested back with our salty, chip-crusted fingertips and the snack was back in production. 
Today we celebrate National Potato Chip Day and remember that we fought hard for potato chips and we deserve to eat the best.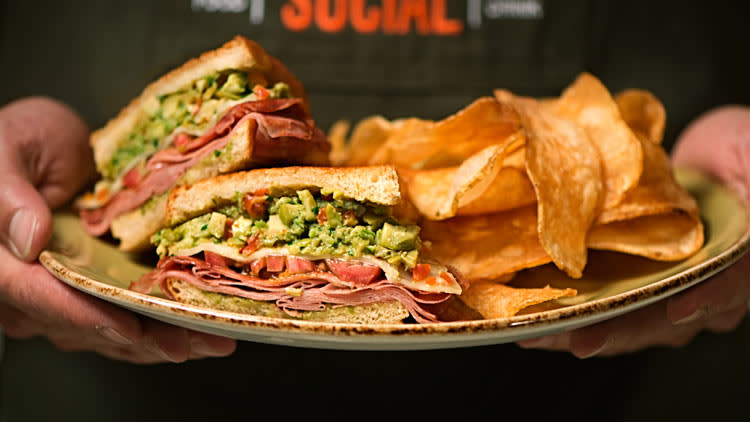 Indianapolis currently has two independent and commercial potato chip brands that sell chips by the individual bag through grocery stores and by supplying local restaurants. Many restaurants offer their unique take on freshly cut and fried potato chips of various thickness, seasonings, and accompanying dips. Take the suggestions below for consideration in how you will celebrate the holiday in Indy.
Located inside the Indianapolis City Market, the Amazing Potato Chip Company makes a thin and crisp chip that is evenly salted and disappears quickly once the bag is opened. Grab a large cup of their lemonade made with alkaline water for a refreshing palate cleanser.
Open the signature brown paper bag with a drawing of the cutest pug and you will find fried Russet potato chips that are larger than most chips and come in either original or sweet and spicy flavors. If Alton Brown likes them, you probably will, too.
Potato chips and sandwiches are an age-old couple. Stop here for lunch and you will find a large scoop of potato chips that curl and bubble and snap with visual appeal to match their taste. Ask for them alongside top notch sandwiches like the Cuban or the mile-high reuben.
Order the Smoked Alaskan Salmon Dip and you'll get a side of chips strong enough to pile on the dip and still have nice crunch to it. Up the holiday cheer by ordering one of their signature Moscow Mules or moonshine cocktails to sip with your chips.
Barbecue seasoned potato chips are the signature complement to hearty sandwiches, but these chips can hold their own. Light, airy and puffed up but crisp, enjoy a plate of housemade chips with house brewed or local craft beer.
This Visit Indy Top 25 Restaurant takes sweet potatoes and turns them into thin and curly chips served with lunch and dinner sandwiches like the Miso Charred Chicken or the White Cheddar Bacon Burger. 
Afternoon or evening meetups over cocktails can also occur with chips and a dip that takes a twist on the favorite French onion with a bowl of charred onion creme fraiche. Sip a tequila or rum "punch," crafted cocktails or adult milkshakes.