Do you hear it, Indy? The winds of change are blowing. Fortunes are changing. Soon and very soon, the luck of the Irish will transform the Circle City. Colorful shades of green will replace the drab grays of winter. Our city will shake with mirth and delight as St. Patrick's Day descends on its streets.
This year's celebration has a little something for everyone - the athlete, the reveler, families, music lovers, and more. Before you begin hatching your plan for March 15-17, you need to equip yourself. I've got all the events lined up in a row for you.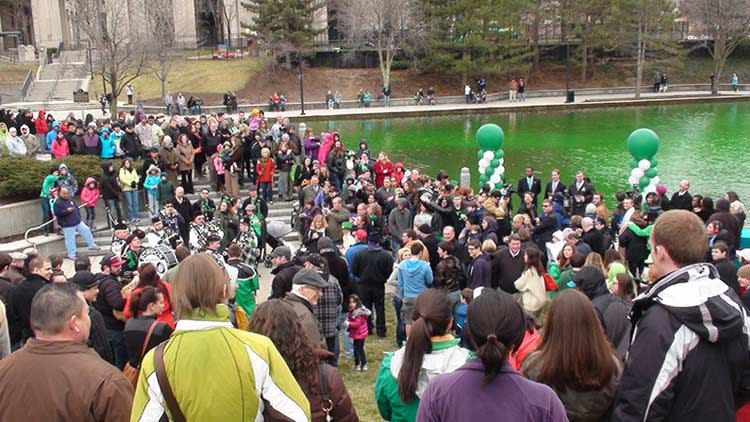 March 15
The Greening of the Canal: The White River Canal flows through downtown Indy like life blood. To kick off the festivities this week, head to the corner of Ohio and West Street to see it turn a lovely shade of green. Beginning at 5 pm, this FREE event ushers in the weekend long celebration. Sponsored by the Hoosier Lottery, you'll find free Irish entertainment, food trucks, and so much more. Rub shoulders with the Governor of Indiana, the Mayor of Indianapolis, the Irish Citizen of the Year, and the Executive Director of the Hoosier Lottery. And of course, give a loud cheer when the waters transform in a festive hue.
---

March 16 
Parade Block Party: Bright and early at 9 am, join your friends for the St. Patrick's Day Parade Block Party. The entertainment action kicks off at 9:30 am with the Ennis Clare Band. Located on Vermont Street between Meridian and Pennsylvania, the Block Party is located in the middle of the parade route. Entrance is free and the event features live entertainment, food, a beer garden, face painting for the kids, interactive displays, and more. Find the Hoosier Lottery Imagine That Stage schedule here. The Block Party concludes at 3 pm.
38th Annual St. Patrick's Day Parade: For decades, Indy has thrown a high-spirited, culturally rich parade in honor of St. Patrick's Day. Find a place along the route that begins at North and Pennsylvania and ends at Meridian and Vermont. You'll see marching bands, floats, bagpipe groups, drum lines, dignitaries, Catholic schools, and more go marching by. The fun begins at 11:30 am. Get there early to secure your seat.
The Music of U2: Who doesn't love U2? The Indianapolis Symphony Orchestra and a full rock band take on their greatest hits on Friday at 8 pm. Historic Hilbert Circle Theatre will flood with songs like "I Still Haven't Found What I'm Looking For," "One," "Pride (In the Name of Love)," and so many other favorites. Tickets range from $25 to $85. Snag your tickets here.
Special celebrations at local breweries, restaurants, and bars will be hosted all over the city, too. Check out the events beginning on Friday, March 16 at Daredevil Brewing Company, McGinley's Golden Ace Inn (named one of the 10 Best Places to Party Like You're Irish on St. Patrick's Day by USA Today), Four Day Ray Brewing, Indianapolis Propylaeum, St. Practice Day at the Rathskeller, and Murphy's PubHouse 2-Day Sham-Rocking Party. There's even a St. Patrick's Eve Lucky Hour Bar Crawl that features a number of stops for a flat wristband fee or the St. Patrick's Day Pub Crawl in Speedway.
---
March 17
Blarney Bash: From 2 pm to 11 pm, Georgia Street provides its annual Blarney Bash sponsored by Killroy's. Tickets are $5 in advance or $10 on St. Patrick's Day. Live music, Green Beer, NCAA March Madness, and so much more will be on tap for the day long event. Buy your tickets here.
27th Annual Shamrock Run & Walk: Feeling the need to burn off some extra liquid calories? Strap on your running shoes and hit the course for a 5 mile or a 4 mile walk on St. Patrick's Day morning at 10 am. Find all the registration info and course routes here. The fun doesn't end at the finish line, though. A large heated celebration tent will offer runners, walkers, and their families a place to recover with food, beverages, live entertainment, and more.
5K Shamrock Beer Run/Walk: At 2 pm, you have the chance to get on the move again. The Shamrock Beer Run boasts a festive spirit and special prizes for costumes. Local breweries will sponsor beer stops along the route. Race details and registration information can be found here.
Again, local breweries, bars, and restaurants will feature their own St. Patrick's Day festivities including but not limited to Howl at the Moon, Slippery Noodle Inn, The Rathskeller, West Fork Whiskey Co., Centerpoint Brewing, Planetary Brewing Company, The HandleBar Indy Pedal Pub, Brothers Bar & Grill, The Pub Indianapolis, Metazoa Brewing Co., and Black Circle Brewing Co.
No matter how you choose to celebrate, St. Patrick's Day will be one busy weekend in Indianapolis. Don't forget to hashtag your photos #LoveIndy and #317Day so we can follow along with your fun.