As we close in on the final few days of 2018, this city has a lot to be proud of. Perhaps it all started when Amazon HQ2 put Indy on their short list for city headquarter contenders. Across the country chatter hit about how Indy landed on such a prominent list. Then, Condé Nast Traveler came out naming Indy one of the country's 'Best Big Cities' while Forbes declared Indy to be "America's Most Underrated City."
Proof is in the numbers, as we've seen more and more visitors travel to Indy this year. Things are good in the Circle City. Really good.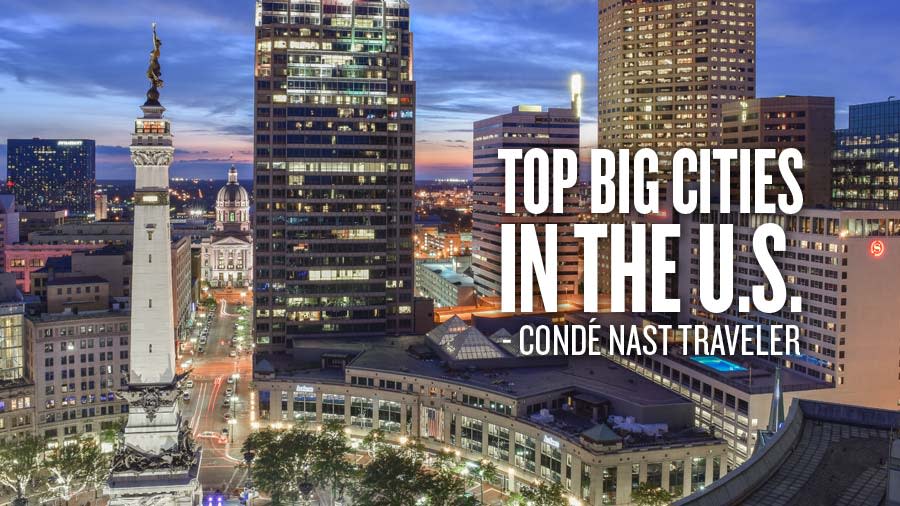 We're celebrating a year that boasted the strongest list of restaurant openings we've ever had, a big win in landing another massive sporting event with the 2026 NCAA Men's Final Four, and the roll out of one of the most unique attractions in the world, Sports Legends Experience. The arts had such a strong year with two major theatre openings including the Phoenix Theatre and The Cabaret, which propelled Indy into the 'Cabaret Capital of the Midwest.' And remember when Film Indy invited NBC's American Ninja Warrior to take over Monument Circle for ten days to film season 10 of the show?
 
Meanwhile, the Indianapolis International Airport continues to dominate the market as the #1 Airport in North America for the 6th year in a row while also launching the first-ever non-stop transatlantic flight from Indy to Paris this past May. Oui Oui!
 
2018 served as the launch date for what is becoming one of the biggest tourism master plans in our city's history, a key to growing Indy as a must-visit destination. Plans are moving forward with the addition of two new downtown hotels, activation of 58 miles of the White River, as well as, opening a 103-acre parcel of land (named Waterside) to new retail, entertainment venues, recreation, and residential life. 2019 will serve as a year where we focus on furthering these city gamechangers.
 
Here are the other ongoings that will make 2019 a pivotal year:
Art Deco Dreams: The world's first-ever West Elm hotel will debut in Indianapolis in late 2019. They're taking over the most amazing white terra cotta building with art deco-designed interiors that once made up the largest Coca-Cola bottling company. The north end of Mass Ave will see a big expansion into the Windsor Park neighborhood once this hotel opens their doors and the Bottleworks District comes alive with a food hall, retail, and more.
Cycling City: Ever since the Cultural Trail celebrated their grand opening in 2013, this city's cycling culture has skyrocketed, so much so that the city needs a major bike share expansion. Consider it done. Indy will roll out 23 more bike share stations and 275 new bikes, more than doubling the city's bike share footprint as it stands now. Ride on, rider!
Old-Time Oddities: 2019 marks the 50th Anniversary of the Indiana Medical History Museum. This pathology lab operated on the grounds of the Central State Hospital for the Insane. Overnight they shuttered their doors and reopened as a "museum" where the brains, equipment, chemical vials, autopsy table all remain in the same spot today. It is one of the creepiest, coolest spots of history in the city and a unique look at the treatment of mental health over time.
Going Global: Two blockbuster exhibits will take museum-goers outside the U.S. and present an in-depth look at two different countries: Japan and Greece. Starting in February, Newfields will have a campus-wide experience that utilizes all of the senses to present Japanese culture, including a pop-up tea and ramen shop. Or head over to the world's largest children's museum for their new exhibit called Take Me There: Greece.
Never-ending Nosh: As mentioned, 2018 marked our strongest culinary scene to date with a long list of quality restaurant openings for the city's big chefs. No slowing down, as we'll continue to see more doors open including more beer halls: Scarlet Lane Brewery (a brewery that delivers beer in a hearse), Taxman Brewery downtown, Upland's Indy expansion, and a new beer hall from Daredevil at Ironworks Hotel. We're excited to see what Chef Alan Sternberg has up his sleeve with his Common House pop-ups, the expansion of Gallery Pastry Shop to downtown, and the city's ability to feed even more of Indy's less fortunate with the opening of Patachou's downtown Public Greens.
Night Lights: The epicenter of Downtown Indianapolis will be in the spotlight, literally. Kicking off Veteran's Day weekend, visitors and residents alike will be able to huddle up around the Soldiers and Sailors Monument for evening presentations of light and sound set to surprise.
The Wonderful Walker: Many may not know the legacy of Madame Walker, the first self-made African American millionaire who grew up in Indy, but that will change once the Netflix movie detailing her life debuts with LeBron James and Octavia Spencer in the movie credits. Just in time for the movie to air, new and old fans will be able to once again enjoy the Madame Walker Theatre as they re-open their doors. Simultaneously, the Indiana Historical Society will present a 'You Are There' exhibit in her honor. (Tip: Start celebrating her now by taking a selfie with the 3,840 comb art installation of her likeness inside The Alexander hotel).
Literary Love: We can't get enough of the sassy Indy native and profound author, Kurt Vonnegut. His most famous book, Slaughterhouse Five, turns 50 years old next year and every sophomore in the state will receive a copy of the banned book. The Kurt Vonnegut Museum Library will also roll out a new exhibit commemorating this antiwar novel.
And just like that, we close the chapter on 2018 and welcome in what's sure to be a fun 2019. So it goes…