In so many ways, Indianapolis is a city that just keeps getting better. Every time I turn around, there are new restaurants opening, new exhibits to check out, new destinations to visit, new local businesses to shop, new hotels to book a stay. It shouldn't surprise me that each year on Martin Luther King Jr. Day, the offerings to celebrate diversity, fight for social justice, learn something new, and enjoy time with family and friends continues to grow, too. If you're lucky enough to have the day off this year, you'll find opportunities all around town to do all of the above and so much more. Without further ado, here's the round up of Indianapolis MLK Day happenings.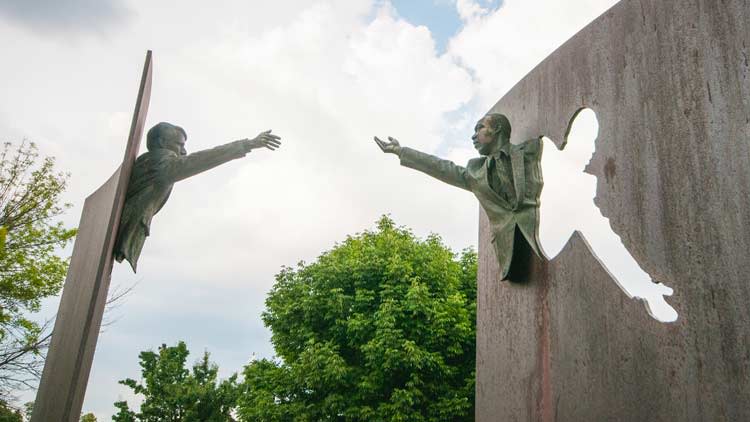 For years, the amazing destinations in White River State Park have provided opportunities for growth and entertainment on MLK while also making a difference in the Indianapolis community. This year is no different. All White River State Park destinations are FREE with a canned food donation for Gleaner's Food Bank. Both your admission and your parking are included. Plus, if you'd rather not lug cans all over downtown, you can simply make an online donation to Gleaner's online and show your receipt on a print out or your phone.
A number of the destinations are also offering unique experiences to mark the day:
For all of the details and where to park, go here.
The Children's Museum of Indianapolis
Kids of all ages LOVE The Children's Museum of Indianapolis. On MLK day, admission for everyone is absolutely free. Plus, you'll be able to experience a number of fun educational experiences to bring your visit to the next level. Don't miss:
Special performances by the Griot Drum Ensemble
Storyteller Portia Jackson's tales of the children of the Civil Rights Movement
Vocal performances from the Freetown Village Singing Troupe
An interactive experience sharing the story of Ruby Bridges
For the specifics on times and visiting tips, go here.
Rhythm! Discovery Center
Feel the heartbeat of MLK day through the Rhythm! Discovery Center's special celebration. Admission will be free from 10 am to 5 pm. At 2 pm, enjoy a special free concert, too. Enjoy the music of Jazz Trio & 2011 IJF Hall of Fame inductees Allen Burke, Steve Weakley & Gene Markiewicz.
For all the details, go here.
The Harlem Globetrotters
While not free, you're guaranteed a high flying show when the world famous Harlem Globetrotters visit Bankers Life Fieldhouse on January 15. There's still time to pick up your tickets for the 2 pm game on MLK Day.
To buy yours, go here.
Newfields
Spend Sunday, January 14 from 1 pm to 4 pm exploring the arts at Newfields. With your donation of canned good, personal care item, or art supplies, you can visit Indy's destinations for all things art free of charge. Reflect on Dr. King's legacy through dancing, poetry, and visual art.
Check out the details here.
Indiana History Center
Indiana History Center honors Dr. King's memory by inviting you to participate in the National Day of Service. Admission is free from 10 am to 5 pm. You're encouraged to bring in gently used winter clothing to provide warmth and hope to the homeless living in Indianapolis. You can help pack hygiene kits from 10 am to 4 pm to benefit HealthNet's Homeless Initiative Program Outreach Team. Learn about change makers through special exhibits and performances all day long and then be a changemaker yourself.
For the entire line up, go here.
MLK Day of Celebration at Madame Walker Theatre
Learn by doing. Begin with an 8:30 am breakfast (1st come, 1st served) at the Urban League and then take part in a Freedom March to the Madame Walker Theatre Center. Upon arrival, be inspired to continue Dr. King's Dream at the MLK Day Celebration at 9:30 am.
Find the details and directions here.
Landmark for Peace Memorial
Any day of the year, you can visit the Dr. Martin Luther King, Jr. Park and Landmark for Peace in Indianapolis. Marked by a rich history, Indy's own unique tribute to the revolutionary Civil Rights leader is open daily from dusk to dawn. View the unique monument and spend a few minutes in quiet reflection at the park.
No matter how you choose to celebrate MLK Day in Indianapolis this year, pause and whisper a prayer of gratitude for those who fought to end oppression. Then, do something to continue their legacy.