From lifesaving doctors to world-renowned rappers, numerous innovators will again take part in this year's Spirit & Place Festival, giving thousands in Central Indiana an opportunity to dream big.
From Nov. 6-15, the city's largest collaborative festival will explore the theme of "DREAM" through dozens of innovative programs. Presented in partnership with more than 100 organizations, Spirit & Place Festival regularly brings upwards of 19,000 people together in an effort to ignite creativity, inspire place-making and spark connections that build more vibrant and civically engaged communities. Now in its 20th year, the 2015 festival will include live performances, panel discussions, workshops, and more.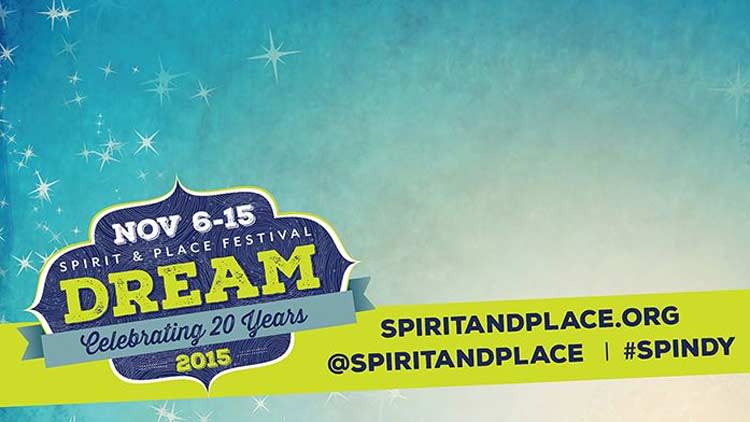 Below, we've highlighted a few of this year's programs. For a complete listing of 2015 Spirit & Place Festival events, though, be sure and check out the complete 2015 calendar.
---
 Sunday, Nov. 8 from 10-11:30 am, Sunday, Nov. 8 from 1:30-3 pm, Arthur M. Glick JCC (6701 Hoover Road, Indianapolis, IN), Free.
Programs explore the theme of "DREAM" through the lenses of neuroscience, song, religion, social justice, dance and more, highlighting the voices of youth, elders, veterans, visual artists, neighborhoods and others who dare to dream. In its beautiful, evocative and participatory two performances, The Choreography of Dreams will challenge and inspire audience members with dance, music, poetry and video stories of community elders.
---
Saturday, Nov. 14 from 4:30- 6 pm, Light of the World Christian Church (4646 Michigan Road, Indianapolis, IN), Free.
In celebration of its 20th anniversary, Spirit & Place invites the public to explore the notion of "full circle dreaming" with three panelists who have had the audacity to dream beyond themselves and have instead built lives and careers focused on their dreams for building better communities. Presenters include Grammy Award winning hip-hop artist and social activist Michael Render (aka "Killer Mike" for his ability to "kill the mic" during his shows), local restaurateur and philanthropist Martha Hoover of the Patachou Foundation and senior pastor of Light of the World Christian Church Dr. David Hampton. Label manager of Asthmatic Kitty Records, John Beeler, will moderate.
---
Sunday, Nov. 15 from 4-5:30 pm, Congregation Beth-El Zedeck (600 W 70th St, Indianapolis, IN), Free.
The Spirit & Place Festival was born out of a "public conversation" between Kurt Vonnegut, Dan Wakefield and John Updike in 1996. These three literary giants explored the connection between the arts, humanities and religion. Twenty years later, Spirit & Place Festival is now shining a light on emerging voices and talent in the community through this public conversation. This year's presenters are Phyllis Boyd (Groundwork Indy), David Sklar (Indianapolis JCRC), Marshawn Wolley (Visit Indy) and Rev. Anastassia Zinke (All Souls Unitarian Church - Indianapolis).