In honor of Indiana's bicentennial celebration, the Indiana State Museum is presenting a special exhibition, Indiana in 200 Objects. The exhibition, which features rare and priceless artifacts highlighting the history of the Hoosier state, now open and runs through January 29, 2017.
The exhibition features nearly 140 artifacts from the Indiana State Museum collection, and is supplemented by contributions from museums, institutions, libraries, corporations, and private collections. Altogether, the exhibition has 40 partners, including the U.S. National Archives, NASA, the Indiana Historical Society, Rolls-Royce, The Children's Museum of Indianapolis, Cummins Inc., Cranbrook Institute, Butler University, Indiana University, Notre Dame, and Purdue University. 
"This exhibition will introduce significant moments, events, artifacts, and people from Indiana's past and present, as well as present our state's amazing natural history," said Dale Ogden, chief curator of history and culture. "The experience will showcase the breadth and depth of Indiana's history, including its contributions to the nation and the world." 
200 Objects is organized into nine themes. Each theme addresses a part of Hoosier life—statehood to globalization, local to universal, inspirational to cautionary. According to Ogden, however, it was difficult to narrow down which objects would appear in the exhibition.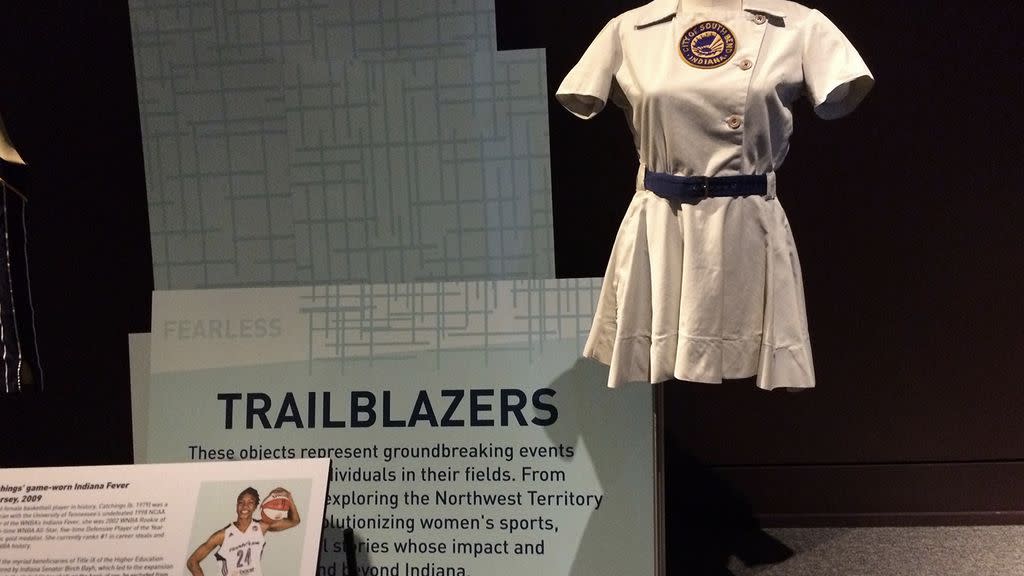 "The curators could present a similar inventory with completely different artifacts … and we'd still just be getting started," he said. 
Some of the objects on display include Mario Andretti's Indy 500 fire suit, Amelia Earhart's flight jacket, Johnny Appleseed's drinking flask, Indiana's electric chair, a copy of the 13th Amendment signed by Abraham Lincoln, Reverend Theodore Hesburgh's Presidential Medal of Freedom, and a military drone built by Rolls-Royce. 
"There are so many amazing objects in this exhibition," Ogden said, listing Larry Bird's college player of the year trophy, the Act of Congress that officially made Indiana the nineteenth state, and astronaut Gus Grissom's U.S. Air Force uniform. "And that's barely the tip of the iceberg." 
200 Objects is a signature project of the Indiana Bicentennial Commission, with support from Rolls-Royce; the Indianapolis Colts; the Nicholas H. Noyes, Jr., Memorial Foundation; the Arts Council of Indianapolis; and the City of Indianapolis. The exhibition is included with museum admission, and is located on Level 3, across from 200 Years of Indiana Art: A Cultural Legacy.