Madam C.J. Walker in Indianapolis Tour
Indy's Entrepreneurial lcon Leaves an Impressive Legacy
At the beginning of the 20th century, when entrepreneur and icon Madam C.J. Walker was looking for a city to grow her business of specialty, hair care products for African Americans, she looked no further than the Crossroads of America and set up shop in Indianapolis. Walker's savvy business and leadership skills earned her status as the country's first self-made female millionaire and transformed the beauty industry forever. The historic Walker Theatre and Madam Walker Legacy Center honor her story. 
As Netflix's series chronicles her life, with Octavia Spencer as the lead and LeBron James behind the production, the renovated landmark theatre will now reopen to the public. And as national media attention pays tribute to her legacy, now is the perfect time to explore Walker's legacy in Indy. 
---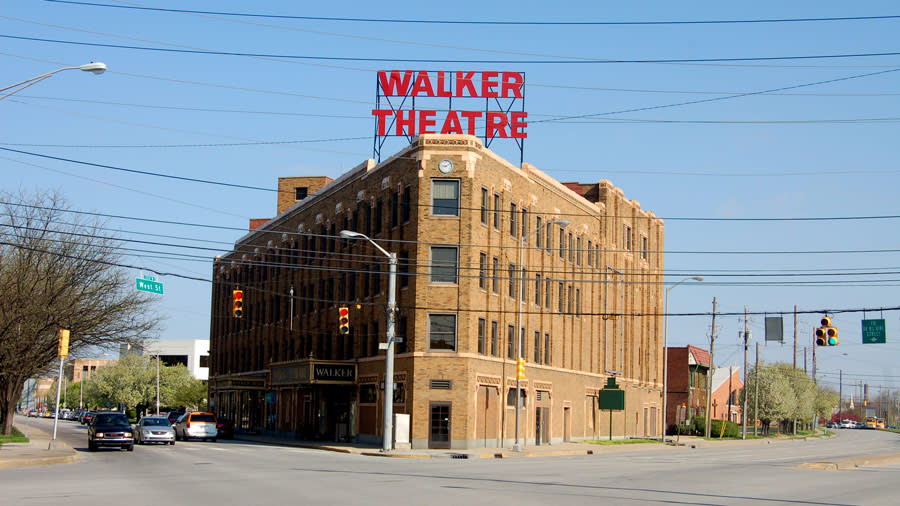 Built in 1927, the Madam Walker Legacy Center commemorates Madam C.J. Walker's zeal and drive to success. Originally built to house her products' manufacturing, it became much more: a forerunner of today's shopping malls with a drugstore, a beauty salon, a beauty school, a restaurant, professional offices, a ballroom and a 1500 seat theater. 
---
This mural at the Indianapolis International Airport tells the legacy of Madam C.J. Walker. Not only does the mural show the accomplishments of the first Black female self-made millionaire, complete with stunning scenes of Madam Walker's haircare product empire, but also depicts the dreams of contemporary Black men and women inspired by her legacy. The mural, created by local artist Tasha Beckwith, is on display on Concourse A.
---
Indy's grand Central Library shares the story of Walker's early life, legacy, and impact on our city. Learn more about Indianapolis history, and the impact Walker made, at this fantastic cultural center.
---

Indy's art-infused Alexander Hotel houses a show-stopping Walker portrait made entirely out of hair combs by local artist Sonya Clark. 
---
Signature Cocktail at Plat 99

Inspired by Sonya Clarks​​​​​​'s distinct hair comb sculpture in The Alexander, "On My Own Ground" is a signature cocktail at adjacent hotel bar, Plat 99. This cocktail celebrates Madam C.J. Walker for being the first self-made millionairess in the country, and is made with Plantation O.F.T.D., Hotel Tango Lemoncello, demerara, orange, and hot cider.
---
Stop by LouVino on Mass Ave to experience the Madam C.J. Walker wine flight. Described as "Rich, Tasteful, and bursting with charisma", this wine trio is sure to please. The flight blends together Brooks 'Amycas' White Blend 2017 wine sourced from Oregon, Trimbach Gewürztraminer 2015 from France, and Famille Sadel Cotes du Rhone Blanc 2016 from the Rhone Valley of France. 
---
Local café and coffee haven Foundry Provisions pays tribute to Walker with a lunch basket in her name that includes a grilled cheese and soup rich in flavor and comfort. 
---
Dine alongside an exquisite portrait of Madam Walker at this elegant downtown steakhouse. Featuring exquisite steaks, a cozy atmosphere, and upscale service, the Capital Grille is a fantastic place to enjoy a meal and view a Madam Walker piece.
---

African American artists Bernard Williams pays tribute to Walker in his outdoor art installation titled Talking Wall. In this piece, a collection of symbols are fused together to tell a story and promote discussion regarding African-American history within Indianapolis. The large fist, inspired by hair combs, speaks to the story of Walker and the fortune and impact she made within Indy.
---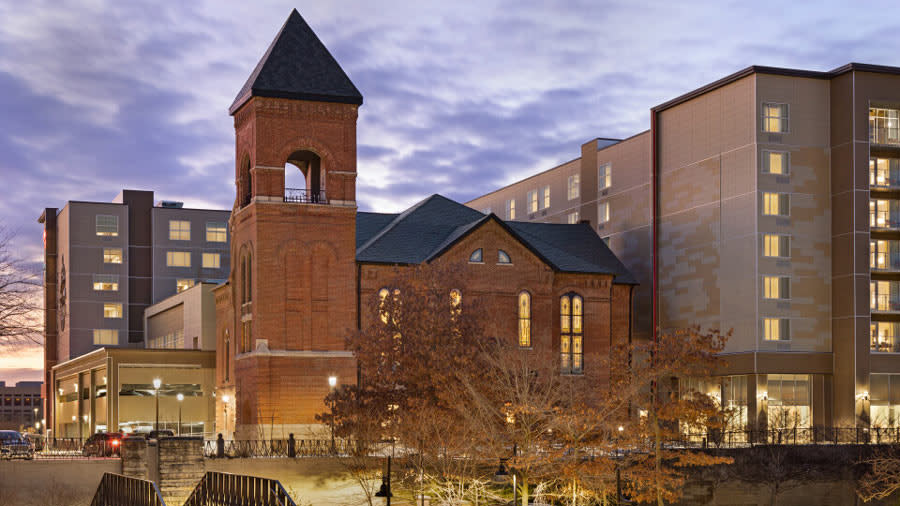 Formerly the home of the Bethel A.M.E Church, this historic church building is now part of the new Hampton Inn/Homewood Suites on the Canal downtown. Explore the history and impact that Madam Walker had as a member of Bethel A.M.E Church in a timeline that can be seen in the church halls.
---