The Beatles said happiness is a warm gun, Charles M. Schulz said happiness is a warm puppy, but a lot of us may find some happiness in a warm glass of mulled wine. See what other winter warmers are on tap at Indy Craft Pass partners this season:
8th Day Distillery: There are plenty of spirits to raise your, uh, spirits for the holidays: the bourbon whiskey, rye whiskey, and navy strength gin are all limited releases you should grab before they're gone. It's also easy to get the party started with a canned cocktail, 8th Day Gin & Tonic.
Ash & Elm: The cider of the month for December is cranberry rum and the winter seasonal is marigold chai, both making holidays bright. Brighten a friend's holiday with a gift box featuring each of the 2020 ciders of the month for $45.
Bier Brewery: Both locations still have liquid pumpkin pie, aka Pumpkin Ale, on tap, as well as John's (robust) Porter, the latest release in the hard seltzer "burst" can series (pina colada), Barley Buddy Brown (English brown ale), and vanilla porter.
Big Woods/Hard Truth Hills: Just when you thought peanut butter couldn't get any better, Hard Truth released its Peanut Butter Whiskey. Indulge in a PB Whip (using Hard Truth Toasted Coconut Rum Cream) or a Peanut Butter Highball.
Centerpoint Brewing: Take your pup with you and enjoy a Center Perk coffee porter brewed with Bee Coffee beans or Black, the American porter with a touch of chocolatey sweetness.
Daniel's Family Vineyard & Winery: If you're dreaming of a wine Christmas, Daniel's has you covered. Try rotating samples and find gifts like the PawtyPack for the vino fan in your life. Gift sets include 12 custom watercolor dogs celebrating and 6 bottles of wine (Fireside Sangria, Winzer White, Rosé).
Easley Winery: If you could bottle cozy, holiday feelings, it would taste like Easley's warm mulled wine. Made in the gluhwein tradition, this red is infused with cinnamon, spices, honey, and apple and lemon juices.
Four Day Ray: Embrace the warming trend with Snow Shed Winter Ale, a brown ale and "hug in a glass" with flavors of cinnamon, nutmeg, honey, nuts, and biscuit. Chocolate Lager, a Munich dunkel with creamy caramel and nut flavors, is sure to be a hit at any holiday meal. If you want a more hoppy drink, pick up some Whoakay! Hazy IPA with flavors of apricot and passion fruit.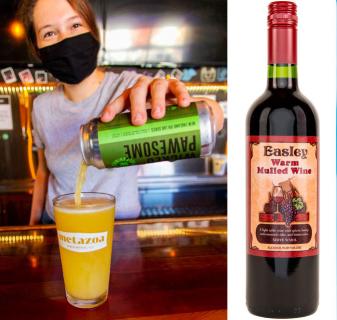 Guggman Haus Brewing: What could be more warming than Imperial Maple stout brewed with real maple syrup? For something a bit less heavy, try the Pineapple Sour Dbl IPA (sour with pineapple, strawberry, and vanilla) or Luminous Sky DDH Dbl NEIPA (hazy with pineapple, mango, and orange), Alpine Tundra TDH Dbl NEIPA (hazy IPA with well-rounded, dank hoppiness), or the Great Haze DDH NEIPA (fruit-forward hazy). Be sure to try the Coconut Stout (with cocoa nibs) and Barrel-Aged Imperial Magpie Stout, too.
Hotel Tango Distillery: Look for holiday packs soon in the tasting rooms and in a variety of liquor stores. Perfect for sharing high-standard issue bourbon.
Mallow Run Winery: Add cheer to your wine glass with holiday favorites Reindeer Red (smooth and light-bodied with cherry flavors perfect for mulling) and Winter White (light and crisp with floral and tropical notes). Also, the 2020 Artist Series wine has just been released. The sauvignon blanc is a crisp, dry white with hints of citrus and peach blossom.
MashCraft: Alex, the raspberry milk stout which is rich and creamy comfort in a glass, is on tap while it lasts, and Smoked Berzerker Blood nordic ale inspires a fierce love of beer.
Metazoa Brewing: Wicked Pawesome brought home a bronze from the GABF in the "juicy or hazy IPA" category, so come taste a winner. Continue that IPA journey with Parrot in the Pahlah and Hyena Coldada, then have Razzmainian Devil (blonde ale with raspberries and blackberries) for dessert.
Sun King Brewing: The new Sun King Tap Room at the Indianapolis International Airport is the best place to try Airporter, an English-style porter, but there are plenty of other brews that fall into a "winter warmer" category. Electric Reindeer, the brown ale brewed for Winterlights at Newfields, adds a sparkle to your holiday table. Annual variations of Shadow Proof Imperial Stout will warm on the coldest day. Choose from bourbon barrel-aged, peanut butter cup, chocolate orange, or original. A Black Friday treat, Whip Fight, is a bourbon barrel-aged wee heavy with toffee, pecan, and chocolate flavors.
Taxman: The beer of the month is the Belgian-style quadrupel ale, Qualified, with notes of molasses, raisin, caramel, and plum. Sip for a warm, dessert feel, and kick it up a notch with the bourbon barrel-aged variation. It's also time for Tax Holiday (a Christmas ale created with chocolate rye and buckwheat honey also available in a bourbon barrel-aged variant), S'morecast (the marshmallow treat inspired this dark ale), and Hop Audit Southern Passion (farmhouse IPA with exotic, zesty, peppery notes).
West Fork Whiskey Co.: Capital City Black Ops, a new single-barrel Old Hamer Bourbon, is ready now. And you'll want to grab some cocktail mixers from the new Lockdown Cktl Co. Choose from the Old Fashioned and SMASH Shake Up. Also, the mutual admiration between West Fork and Sun King has led to Sun King Vodka, a small-batch spirit showcasing Indiana ingredients. Now available at all Sun King locations, you'll see it soon where you purchase liquor.