The Indianapolis Museum of Art is putting winter back in December for their Winter Solstice Celebration, complete with ice carvers, wintery animals, carolers, and more.
From 5:30 to 9 pm on Thursday, December 17, the IMA welcomes all to engage in a variety of winter-themed activities as part of its Winter Solstice Community Day. From festive live music to immersive arts experiences, the event will consist of engaging opportunities for the entire family, with food and beverages from Sun King Brewing, T Baby's Authentic Caribbean Food and General American Donut Company on hand as well. Throughout the day on Thursday, admission to the museum and gardens will be free, extending through the end of the Community Day activities at 9 pm.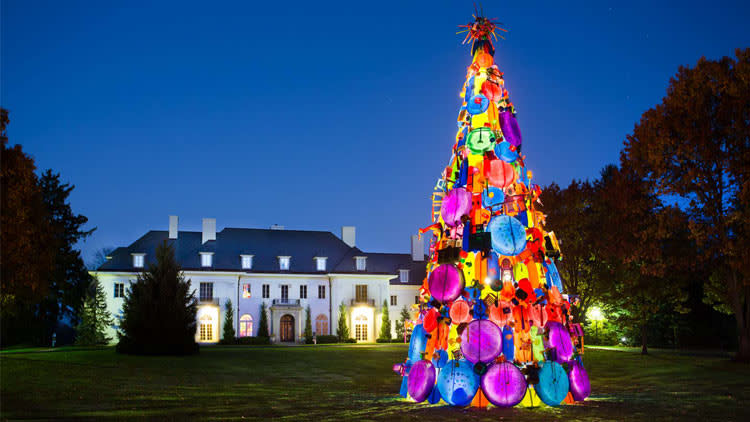 In the spirit of the holiday season, the IMA has partnered with the Mid-North Food Pantry and encourages all to bring a donation of a new toy or food item. Specifically, items that are most needed include canned goods, peanut butter, soap, lotion, toothbrushes, and toothpaste.
For a complete listing of 2015 Winter Solstice Community Day activities, be sure and visit the IMA's website. Below, however, Scott Stulen (curator of audience experiences and performance at the museum) has also laid out a couple of the elements that will be new to this year's event.
- "We will have an airing (and burning of grievances) and feats of friendly strength in celebration of Festivus for all of the Seinfeld fans in attendance."
- "The entire Solstice event centers around Karl Unnasch's 50-foot "tree" sculpture in front of the Lilly House constructed form plastic kids toys. At night the piece glows from within to create a spectacular stained glass effect and perfect photo opportunity for the whole family. A portion of the toys from the piece will be removed during the event to give to the Mid-North Food Pantry for distribution to less fortunate families in our neighborhood."