Sometimes the stars align and an epic weekend is born. This is one of those weekends. Beginning tonight, the city of Indianapolis becomes a sports nirvana for three days. These aren't just run of the mill games either. There are heated rivalries, homecomings, individuals taking atheletic achievement to new levels, and some twists that make this particular weekend one that will leave sports fan cheering.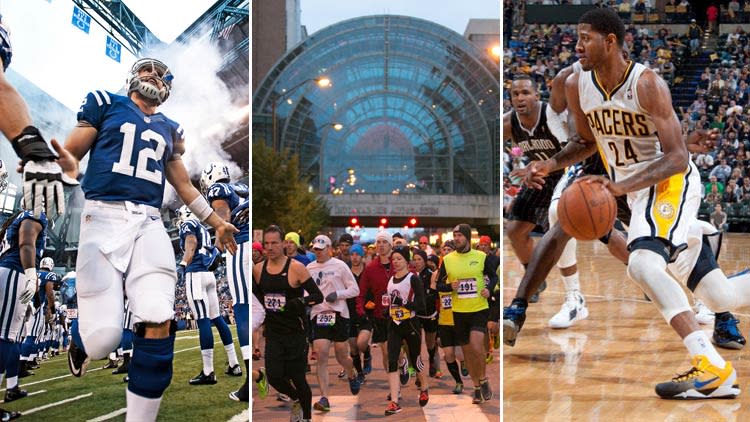 Friday: Indiana Pacers vs. Miami Heat
My Pacers had a legitimate shot at a title in 2012-13 and 2013-14. In both cases it was the Miami Heat who ended our run. Along the way Pacers fans developed a special brand of hate for our friends down south. While things have changed for the Heat since the departure of Lebron, you better believe that a Friday night crowd at Bankers Life Fieldhouse will be hyped for this showdown. As a bonus, the Pacers will premier their throwback Hickory jerseys so Hoosiers fans will want to soak in the scene as they pay homage to what ESPN ranked as the greatest sports movie of all time.
Saturday: Indianapolis Monumental Marathon
Indiana's largest and fastest marathon is ranked among the Top 100 in the world and, as a qualifier for the Boston Marathon, attracts runners from far and wide to test themselves on a 26-mile course that passes Indy's greatest landmarks including Monument Circle, the Indiana State Capital, Lucas Oil Stadium, the Indianapolis Museum of Art, and so much more. There is also a half marathon, 5K, and Kids' Fun Run. Having run 13.1 and found it immensely challenging I am in awe of anyone who can overcome a full marathon. Good luck runners!
Sunday: Indianapolis Colts vs. Denver Broncos
It's been a rough start to the season for the Colts. Meanwhile, the Broncos have raced out to an undefeated record behind a relentless defensive attack and certain quarterback who wears #18. Peyton Manning was and will always be our quarterback in Indianapolis. We became a football town because of him and some credit him as the major reason we built Lucas Oil Stadium and hosted a Super Bowl. Yes, we love you Peyton. All that said, on Sunday we'll pay tribute until kickoff and then we'll flip the switch and be Colts fans cheering for your demise. There will be loads of emotion and the stadium is sure to be electric.
Yes, it appears the sports gods have smiled on our fair city for a weekend and there has never been a better opportunity to get out and cheer. For more events happening in Indy this weekend check out The Weekend 5.