Please note that many events have been cancelled or postponed in consideration of the recent COVID-19 outbreak and these listings may not reflect the most recent updates. We encourage you to check official event websites to verify schedules before attending.
Ahh March - the month when all of Indy gets a bit greener. Indianapolis St. Patrick's Day is a sight to behold. There are a number of ways to celebrate - from parades and 5Ks, to cultural celebrations and just plain fun. If you're looking for the 411 on how to celebrate 3/17 in the 317, Indy has great list o' activities. 
---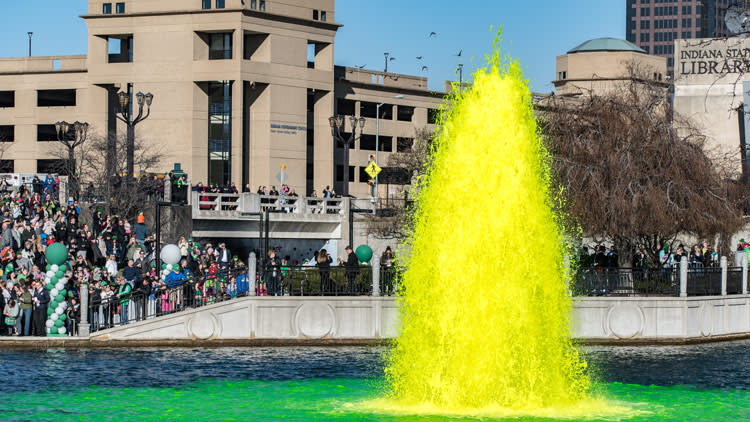 Perhaps one of my favorite traditions! Each year, Indianapolis' downtown canal turns a lovely shade of green to initiate the festivities. At 5 pm on Thursday, March 12, head to the intersection of Ohio and West Street on the Canal for all of the fun. Grab dinner from one of the food trucks. Stick around to listen to Irish music. For the entire evening's line up of entertainment and fun (and necessities like where to park), go here.
---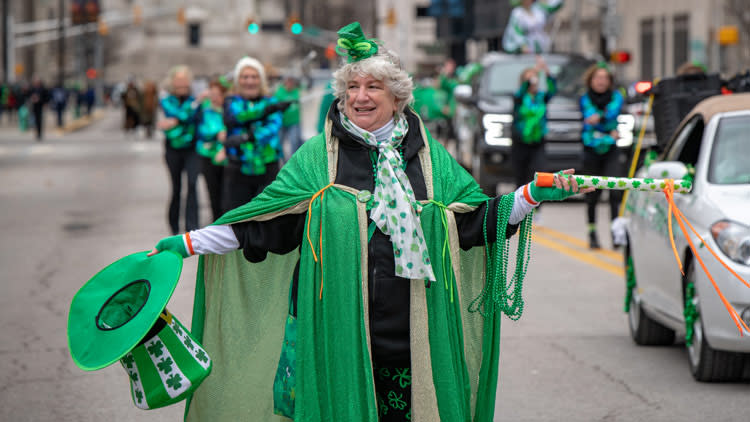 Crazy costumes, bagpipes, bands, Irish themed floats, helium balloons and more - what's St. Patrick's Day without a parade?! This year's 40th Annual Indianapolis St. Patrick's Day Parade will be on March 13 at 11:30 am in downtown Indianapolis. But, the fun begins at 9 am with the parade tent and block party. The parade begins at North and Pennsylvania Streets and ends at Meridian and Vermont Streets. You'll find the Tent Party on North Street between Pennsylvania and Meridian. Check out all the pertinent details on the parade route, special features of the tent party, and more here.
---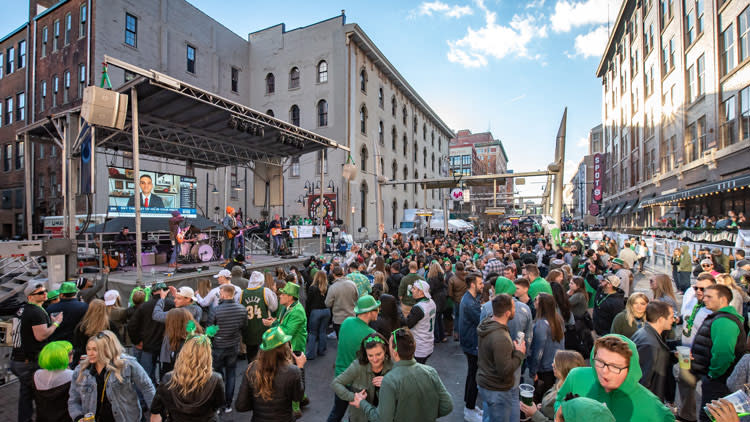 Georgia Street also kicks off the party a few days early on March 13 with Blarney Bash. Listen to the musical stylings of Clayton Anderson, DJ Orion, The Doo!, and DJ Cadillac G. Enjoy a traditional Green Beer or a Lucky Long Island. PLUS since the Big Ten Tournament is town, you can catch the games on the big screen,. Admission is $10 and this event is for those 21 and over.
---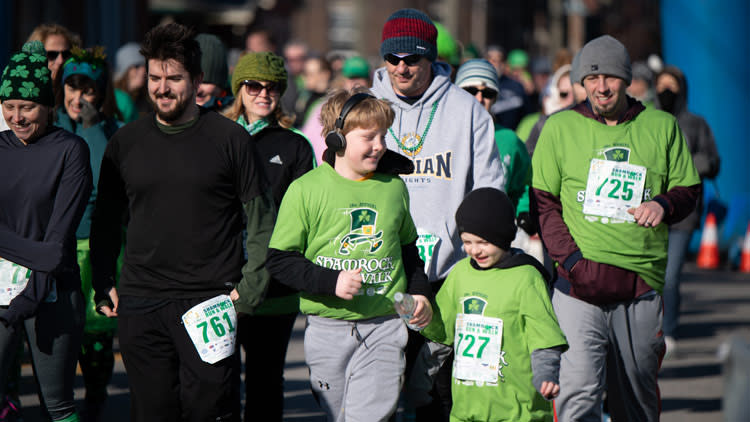 You can walk, run, jog, or even dance your way down Mass Ave and Downtown Indy at the 29th Annual Shamrock Run and Walk on Saturday, March 14. This pet and family friendly run/walk is hosted by The Athletic Club Foundation and the Indianapolis Firefighters Emerald Society. Register by March 12 to save a few extra bucks. The event also features a post race celebration with live music, a beer garden, and food trucks on Mass Ave. And if the weather is chilly, don't worry! All of that fun is packed into a heated tent at the Start/Finish line of the race.
---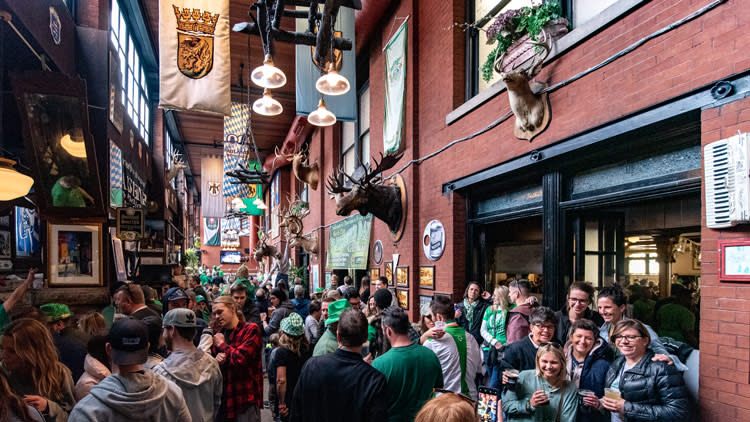 While Indianapolis' longtime downtown fav the Rathskeller is typically known for its German fare, the luck of the Irish abounds at St. Pat Rat. On March 17, enjoy live music all day and long into the night. There's no admission charge. Plus, you can feast on authentic Irish food!
---
Last but certainly not least is a three day celebration, March 15 - 17, going on just north of the city in Hamilton County. Opportunities to celebrate are limitless. You can have breakfast with a leprechaun. You can run a 5K. You can drink glitter beer. There will be live music, Irish sing-alongs, party swag, and so much more. Check out the full round up here.
---
You really can't go wrong with St. Patrick's Day in Indy! This year, you have the opportunity to celebrate from March 12 - 17 with so many fun events. How lucky is that? A roundup of activities: 
March 12 - Greening of the Canal
March 13 - Blarney Bash
March 13 - St. Patrick's Day Parade and Tent Party
March 14 - Shamrock Walk and Run
March 15 - Firkin St. Patrick's Day
March 17 - St. Pat Rat