Back to back weekends of athletes in action are scheduled in Indy this month. On December 5, the B1G Ten Football Championships took place at Lucas Oil Stadium – and this coming weekend, Olympic medalists from across the US and Europe will make their way to the city for the
Mutual of Omaha Duel in the Pool
event.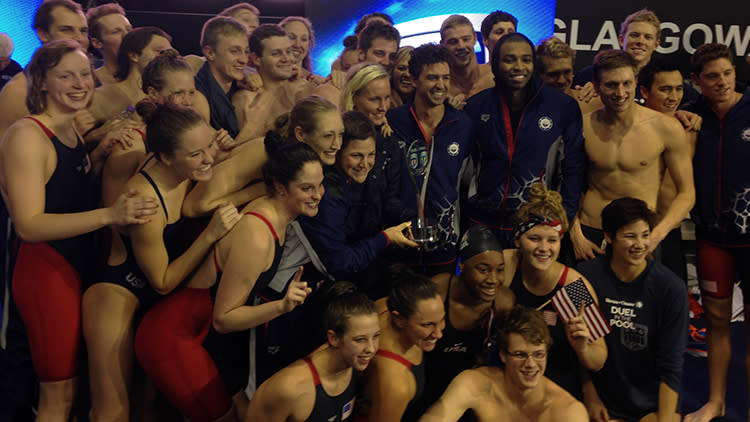 The event originated in Indianapolis in 2003 and since then Team USA has held a perfect record of 6-0 against competitors. Olympic gold medalists Missy Franklin, Ryan Lochte, Nathan Adrian, Tyler Clary, and Matt Grevers are among the US competitors led by the 2008 Team USA women's head coach, Jack Bauerle.
Duel in the Pool takes place on December 11 and 12 at the legendary
Indiana University Natatorium at IUPUI
and you're more than encouraged to come cheer on the team. It's a fan-friendly event and the perfect opportunity to watch the best of the best as they prep for the 2016 Olympic Games in Rio.
Other US medalists to compete include Conor Dwyer, Jessica Hardy. Carmel native Claire Adams, a 2015 U.S. National Champion, will also be competing. Europe's contenders include 2012 gold medalist Ranomi Kromowidjojo of the Netherlands, and world record holder Katina Hosszu of Hungary.
Adult all-session Mutual of Omaha, Duel in the Pool tickets cost $65, $50 or $35, depending on location. Children can attend for $55, $40, or $35. Single session tickets are $20 for adults and $15 for children. Men and women combined will compete in 30 events, so grab your friends, pick your favorites and show your Team USA spirit!  
For more information on Duel in the Pool or Mutual,
click here
.