Did you know? Lucas Oil Stadium now offers public tours of the facility Monday through Friday, typically at 11 am, 1 pm and 3 pm. If you're looking for a behind-the-scenes peek at one of the country's top sports venues, you've come to the right place. During the 90-minute tour, guests will have the opportunity to visit the actual playing field, press box, locker room, and more. In the 'Bud Light Fan Zone', if the window is down, you have arguably one of the best views of downtown in the city – from a football stadium!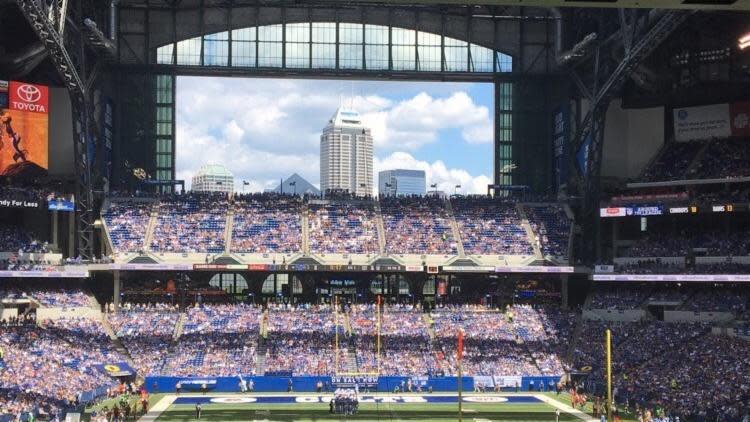 The tour will take you on a journey and teach you a thing or two as well. I may be biased, but if you happen to have George as your tour guide, it just might be the best tour you've ever been on. George showed us the ups and the downs but also threw in his personal touches and made every turn exciting. He taught us fun facts regarding the history of the franchise, the city and Lucas Oil Stadium, as well as legends of celebrity appearances and knock your socks off jokes.
---
Football's Back
Did you know more than 350 kegs of beer are sold in a single game? That's a lot of liquid to go along with the 5,500 hotdogs and over 6,000 bags of peanuts. Any idea how much popcorn is consumed during a Colts game? Or the number of media that fit in the press box? Maybe you want to know which locker is Andrew Lucks or which elevator the celebrities take to get into the suites. Looks like you're going to have to take a tour to find out!
Cost is $10 for adults and $7 for seniors and kids and tickets are available at www.ticketmaster.com. For more info, click here.