Snails and alligators and elephants, oh my! This summer, nearly 500 brightly colored animals will invade Newfields as part of Summer Wonderland: Spectacular Creatures. The campus-wide installation opens June 1 and will feature sculptures in all shapes and sizes – from miniature penguins to larger-than-life meerkats.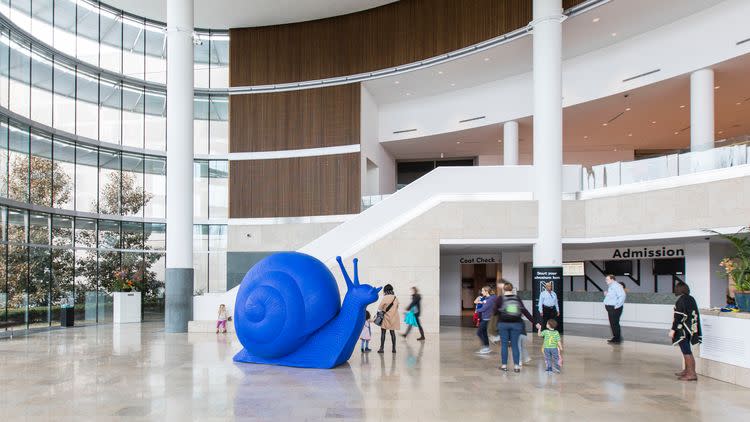 The sculptures were created by Cracking Art, an Italian art collective founded in 1993. Their goal? Change the history of art through a strong social and environmental commitment. As a result, Cracking Art often reuses plastic materials – and Summer Wonderland: Spectacular Creatures is no exception. Each sculpture is made from recycled plastic, has a specific meaning, and addresses environmental issues like global warming, the overuse of fossil fuels, and the importance of recycling. The electric blue, eight-foot-tall snail in the entrance pavilion, for example, symbolizes regeneration, with its shell suggesting the progressive nature of time.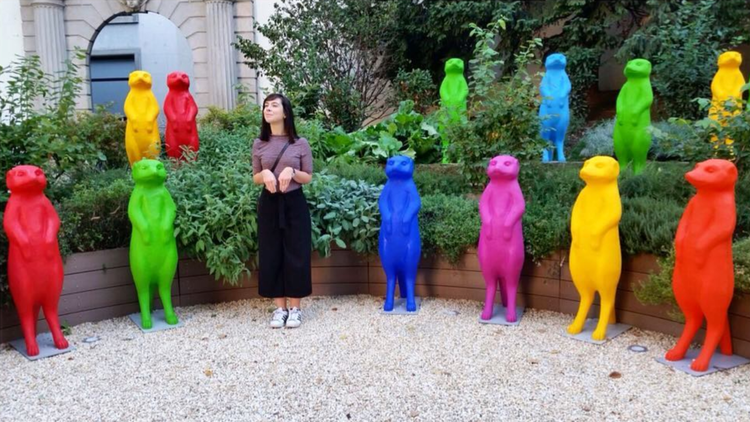 Summer Wonderland: Spectacular Creatures is Cracking Art's first collaboration with a major American art museum. (The "invasions" typically appear in urban environments.) Patrons will be able to touch – and take photos of – the sculptures, which will be installed throughout Newfields' campus. Both the young and young-at-heart will stumble upon snails in the entrance pavilion, elephants inside the Lilly House, giant alligators on garden pathways, and meerkats in the formal garden. No doubt about it; these sculptures are worth a Snap (and an Instagram story).
As Dr. Charles L. Venable, the Melvin & Bren Simon Director and CEO of Newfields, said, "Summer Wonderland is the first-ever art exhibition in the garden, inviting guests to experience art in unexpected places … [The sculptures] break down walls between indoor and outdoor spaces and remind the community how family-friendly our campus is."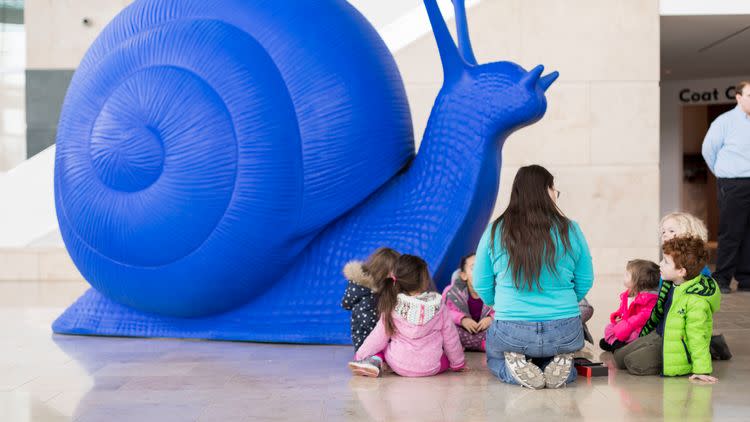 Think your little ones will want to get up close and personal with these "spectacular creatures?" Plan to swing by Newfields on Family Day, held from 11 am to 3 pm on June 2. There will be live music and an all-ages moving theater performance. The kiddos can even create their own costume using recycled materials. Not able to make it? Not to worry. At 12:30 p.m. on Tuesdays, Thursdays, and Saturdays, a "Spectacular Creatures Tour" will be held.
Summer Wonderland: Spectacular Creatures opens June 1 and runs through August 26. Tickets to Newfields are $18 for adults, $10 for youth (ages 6-17), and free for children ages five and under.