After seeing Mamma Mia! at Beef & Boards in Indianapolis, the infectious ABBA melodies keep swirling in my soul. Whether you're a fan of the blockbuster movie, the Broadway musical, or simply delightful 70s pop, you won't want to miss your opportunity to catch this fantastic show before it packs its bags and sails away on April 8.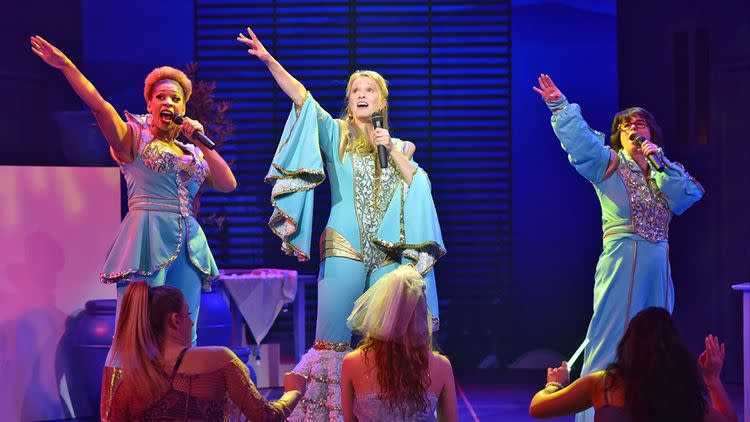 A top notch cast dances into your heart in a show you won't want to see come to an end. Perhaps most notable was the ensemble's excellent comedic timing and joy filled presentation of each number. The production showcases youthful talent coupled with experienced performers in tandem, shining with equal brilliance. From the first note to the last sparkling disco refrain, my guess is you'll be signing along, too.
If you're not familiar with the storyline, Mamma Mia! features more than 20 hits from the acclaimed Swedish pop group ABBA. Probably more than once when you hear songs like "Dancing Queen," "Take a Chance on Me," or "Honey, Honey," you'll scratch your head in disbelief at just how many recognizable songs ABBA released.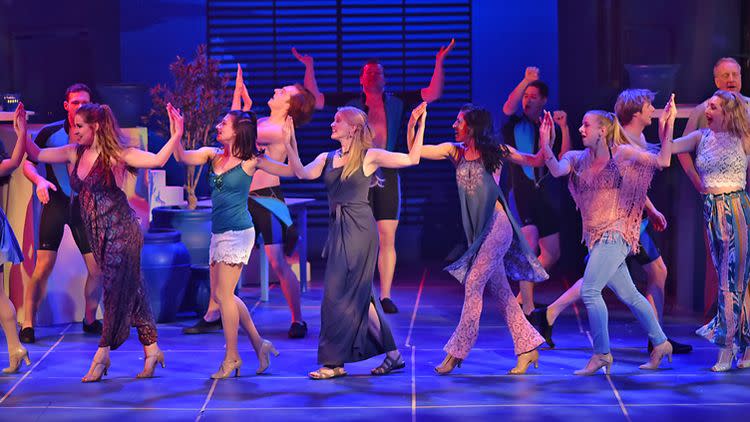 Set on a Greek island, the plot centers around the wedding of Sophie and Sky. Desperate to know who her father is, Sophie invites to the wedding three men mentioned in her mother Donna's journal from the summer she became pregnant. Hilarity and touching moments ensue as Donna relives her past and Sophie seeks a relationship with her father.
Amy Bodnar's performance as Donna Sheridan lights up not only the stage, but also the entire theater. Her partners in crime, Rosie (Lanene Charters) and Tanya (Jalynn) bring with them big voices, physical comedy, and a joie de vie that's contagious.
Beef & Boards has been entertaining and delighting audiences for 45 years. An Indianapolis institution, the theater seems like fine wine to just keep getting better with each year. Your experience includes a delicious meal with excellent service (that's the Beef part) as well as a high quality theatrical production (cue the Boards). You can peek at the Mamma Mia! menu here.
Seats are limited for the remaining dates, friends. You'll want to snap up tickets before they're all gone. Looking for a way to save money on your experience? When you purchase a VIP membership to Beef & Boards, you'll not only enjoy buy one, get one free tickets seven times throughout the season, but you'll also have the cost of one ticket from the show deducted from your membership fee. It's a deal worth checking out.
What are you waiting for? Dig out your bell bottoms and sequins. Head to Beef & Boards for a show you won't forget and songs that will leave you humming for weeks. Mama Mia! closes at Beef & Boards on April 8.