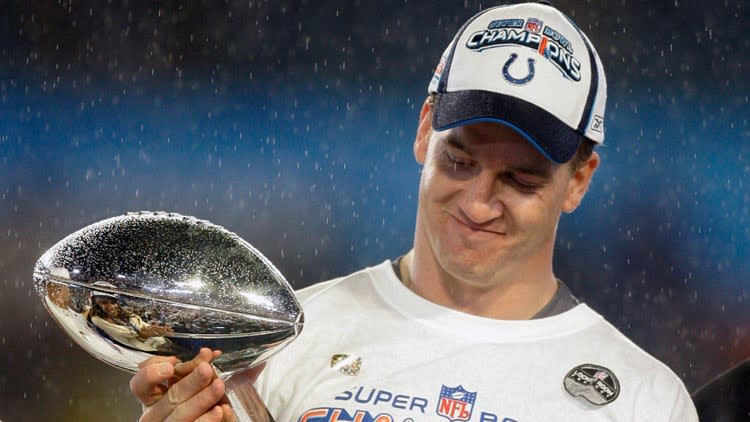 Confession: I grew up a Bears fan. I once dressed as Jim McMahon for Halloween. South Bend, where I spent my childhood, was essentially a Chicago suburb. The Bears Super Bowl victory in 1985 was the pinnacle of my childhood NFL fandom, but the years that followed were bleak. My interest in the NFL waned. Then, while attending Ball State in 1995, my roommate turned me on to the Colts. That scrappy team, led by Captain Comeback Jim Harbaugh, made a playoff run that culminated with a dropped hail mary by Aaron Bailey in the end zone to barely miss out on a Super Bowl appearance. It was a thrilling season, and my allegance officially swung.
Fast forward to 1998. I'm living on the north side of Indianapolis and the Colts draft a quarterback out of the University of Tennessee with a somewhat controversial pick. The decision to take Peyton Manning over Ryan Leaf seems laughable today, but trust me, it was a topic of debate. Peyton is eight days older than me. As I was coming into adulthood, he would be my quarterback.
Much like my own professional life, his career had ups and downs. That first year was rough. There were 26 touchdowns, but there were also 28 interceptions and a 3-13 record. The next year he answered his critics with the biggest turnaround in NFL history, going 13-3 and making a playoff appearance. His brilliance was obvious. He was a savant who studied the game with a level of detail that left defenses exposed. It sometimes seemed unfair.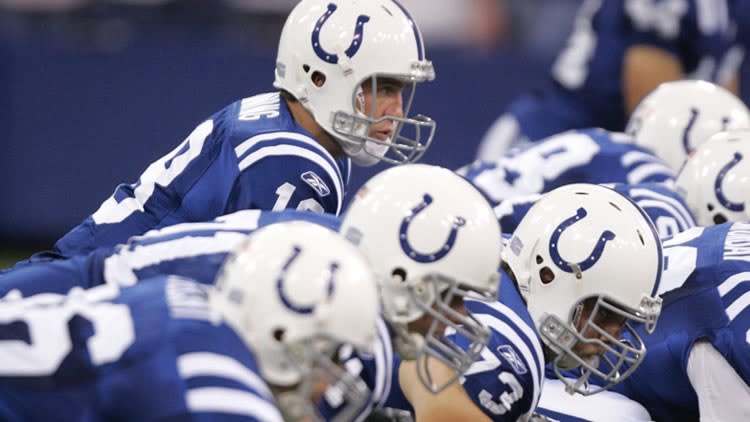 With the clear exception of 2001 (Playoffs?!), the wins kept piling up and double digit wins became routine. A few of those wins stand above the rest.
There was the 2003 Monday Night Football battle with the Tampa Bay Buccaneers. We had acquired Coach Tony Dungy the year prior, and this was a sort of homecoming. The game was wildly hyped, but we came out flat. The score was 35-14 with only four minutes remaining and most Colts fans had tuned out. My sister was at the game in Tampa and actually left. Peyton kept working and found his favorite target, Marvin Harrison, for two touchdowns. It came down to a field goal, which our idiot kicker missed. Thankfully, he got bailed out by a penalty and got another attempt. The kick went through, and we all knew that anything was possible with Peyton under center.
I'll never forget the 2004 run for the all time touchdown record. It came down to game 16 against the Chargers. We were down 15 in the fourth quarter and it looked like the season would end and the record would remain intact. Dominique Rhodes sparked the team with a kickoff return, then Peyton hit Brandon Stokley for touchdown number 49 and led the Colts to a 34-31 overtime victory. Amazing.
There were also the heartbreaking playoff losses, many at the hands of our arch nemesis, the New England Patriots. In Tom Brady's first game as a starter in 2001 he shellacked the Colts 44-13. The 2003 loss was especially painful. The Pats had a four-point lead. The Colts had the ball at the 2-yard line with a minute left and four downs. Not only could we not score, but the fake Willie McGinest injury added salt to the wound. That one still stings.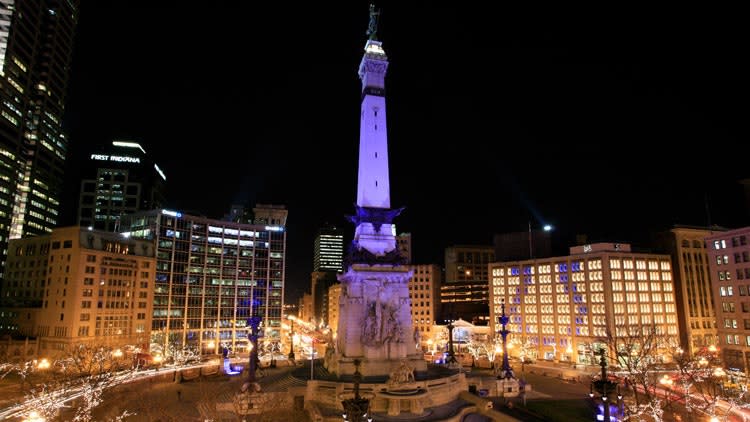 On the flip side, all that pain made the 2006 AFC Championship game that much sweeter. I cannot begin to tell you how electric the city was in the leadup to this clash. Unfortunately, at halftime it looked like a typical Colts/Pats game. Our explosive offense couldn't move and we were in a deep hole, down 21-3. I may have kicked and broken a chair. But Peyton stayed cool and led our Colts back to a glorious 38-34 victory in the most emotional half of football I ever witnessed. Strangely enough, the Super Bowl victory over the Bears felt like an afterthought.
Beyond the wins, Peyton was a character. He may be known today for pitching Nationwide and Papa John's, but his early Visa commercials will always be my favorite. "Cut that Meat! – Cut that Meat!" His Saturday Night Live performance stands out above any other athlete-host. Win or lose, he was always gracious and answered every media question with poise. He was charitable. There is still an Indy children's hospital that bears his name.
More than anything, Peyton put our city on the map. Does Lucas Oil Stadium get built without Peyton? Questionable. Do we host Super Bowl XLV without Peyton? Doubtful. A good share of the momentum Indy enjoys today can be traced back to drafting Peyton Manning.
So, thank you. For the memories on the field. For the legacy off the field. For being a part of my early adult life and giving me an excuse to regularly gather with friends and family to cheer. Thank you for impacting my city and making it a better place to live and raise my family. Thank you for being my quarterback.
I will be there as they unveil your statue, and I will be in the house as they raise your number to the rafters. I'll proudly be wearing #18 on my back one last time.