When it comes to music in Indianapolis, we often think about concerts at the Vogue, Farm Bureau Insurance Lawn at White River State Park, and the Egyptian Room. But what about the smaller venues? The intimate spaces we don't normally think about? What about the places where patrons know the musicians personally and can join them on stage for an open jam? At these nine small venues in Indianapolis, there are no assigned seats; there is only music — be it blues, jazz, rock, punk, metal, or indie folk.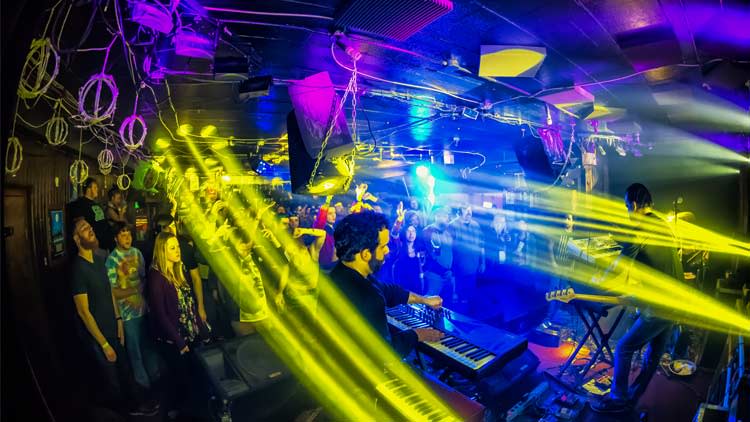 The Mousetrap, which hosts a variety of jam bands, has been slinging drinks on Indy's Northside since 1957. With live music nearly every day of the month, there's no shortage of entertainment here. You can join an open session of bluegrass on Sundays, attend "Bourbon for the Brain – Jazz for the Soul" on Tuesdays, or even play a round of musically-inclined trivia on Mondays. 
---
Books & Brews is a bookstore, brewery, and venue. It's located on Indy's northwest side and has a little bit of everything. There's live music every Friday and Saturday night and open mic nights on Thursdays, at which musicians, comics, poets, and other artists can perform. It's no surprise, then, that the weekly event was named one of Indy's best open mic nights in 2015. 
---
If you're looking for jazz, look no further than the heart of Mass Ave. Historic Chatterbox, which first opened in 1933, offers live jazz music seven nights a week. The Sunday through Thursday shows are free to attend, and you can even join some of the jams yourself! But no matter what day of the week you go, be sure to try one of Chatterbox's famous picklebacks! 
---
Joyful Noise is a record label that gravitates toward artists who "bridge the gap between pop and noise." The label, which is located in the Murphy Building, also operates a pint-sized record store and venue. The stage is used for intimate performances by bands affiliated with the label, such as Kishi Bashi and Half Japanese. So be sure to stop by on a First Friday event; there's sure to be a show! 
---
Loughmiller's is a tavern that serves up American pub grub and has live music at least once a week. Some of their "Live at the Lock" events have featured local bluesy, new-folk artists such as Jay Elliott and Craig Thurston, but other events include "'90s Night with James Wilkerson." The best thing about Loughmiller's? Their live music events are cover-free! 
---
Melody Inn was established in 1935 and is one of Indy's favorite dive bars. Both the wall decor and the live music are eclectic; it's easy to get distracted by deer heads and license plates when listening to punk rock, rockabilly, indie, metal, or comedy. While you're waiting for your favorite band or comic to take the stage, check out the jukebox, or lounge in a vinyl booth from the old Teepee Restaurant. 
---
This Near Eastside gem offers more than just great food and local beers — it also hosts live music on the first and third Fridays of every month. Listen to one of your favorite local bands while nursing a Bloody Mary made with bacon-infused vodka. And if you love jamming to Journey or Jace Everett, then the Tick Tock is the place for you — every Wednesday night is karaoke night.  
---
Union 50 is a chef-driven restaurant and bar just off Mass Ave. It hosts multiple live music events each week, and is frequented by bands such as Midwest Rhythm Exchange, Ghosts of Kin, The Sax Guy, roots rock group The Upright Willies, and blues rock group The Max Allen Band. Be sure to try one of Union 50's signature cocktail.