The kids may be back in school, but Indy still feels like summer with hot temps and far more activities and events than you can possibly attend. With so many attention grabbing aspects of our city, you will need to fuel the fire by dining out at one of the new restaurants in a variety of neighborhoods.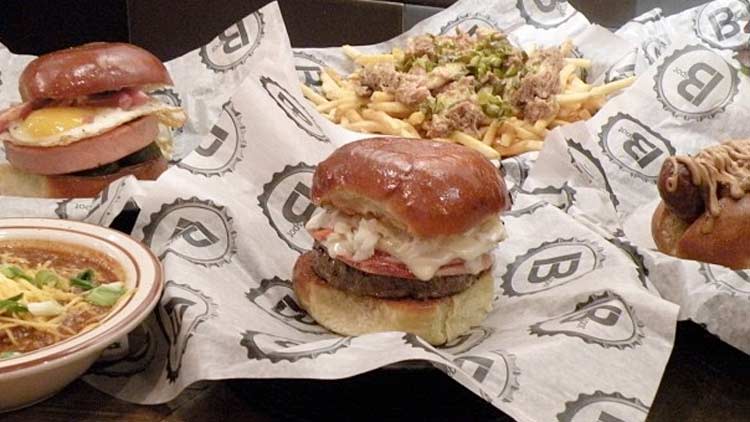 B Spot Burgers (Northside) 
Location/Atmosphere: Housed in the Ironworks building near the Keystone Fashion Mall, B Spot Burgers blends the industrial look of the apartment complex with comforting, open vibes throughout the restaurant's inside and outdoor space. A few TV's will allow you to catch the game without feeling like you are hanging out in a sports bar. The presence of a kid's menu suggests you may hear a few younger voices in the restaurant now and then.
Drinks: B Spot Burgers' niche is milkshakes, and my do they have many varieties to offer. Think vanilla apple pie bacon milkshake and chocolate banana with toasted marshmallows. Wash it all down with a local draft brew, craft cocktail, or swig of bourbon.
Plates: Burgers are the focus of the menu with names like Fat Doug (burger with coleslaw, pastrami, stadium mustard, and swiss cheese) and the Atomic (burger with ghost chili, pickled jalapeños, cilantro, red onion, pepper jack cheese, and habanero sauce). Craving a bologna sandwich? B Spot Burgers has it, in addition to brats and salads. Whatever you decide, try it with the coffee BBQ sauce.
Something unique: The bacon old fashioned: house made bacon infused bourbon, sugar cube, brandied cherries, bitters, and an orange slice.
---
Repeal Restaurant (Fletcher Place)
Location/Atmosphere: During the day, the sun shines through large windows to highlight the sleek wooden bar, chandeliers and dark, sexy furniture. At night, expect to feel as comfortable as you would be at home - but with the luxury of service. Historic and restored, Repeal maintained the prohibition era feel of the building it occupies and translates them into not just the atmosphere but also the drinks and food.
Drinks: Expect handcrafted cocktails made with homemade ingredients and 12.05 Distillery gin and vodka. The distillery equipment and operation can be seen through the restaurant and bar area.
Plates: Sardines, deviled eggs, and mock turtle soup give a nod to the past but those with bigger appetites will relish in the hearty dinner entrees of ribeye, pork chops, and pimento cheese burger. Vegetarians will be impressed with the zucchini cornbread, boiled peanut green bean salad, and peas with almonds and white chocolate.
Something unique: Cold beef tongue with burnt orange bourbon sauce.
---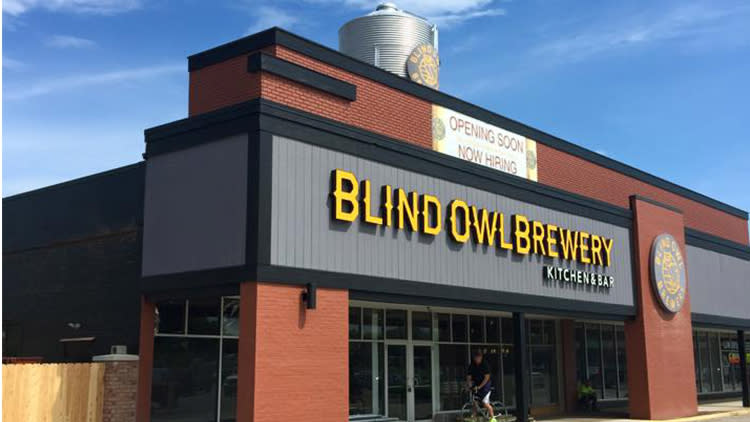 Blind Owl Brewery Kitchen & Bar (Binford Avenue)
Location/Atmosphere: Finally there is a place where downtown friends and northern dwellers can meet in the middle other than Broad Ripple. Located conveniently off of Binford Avenue, Blind Owl Brewery offers an immense amount of indoor and outdoor space for large parties or get togethers. Both indoor and outdoor spaces are large enough for big parties but cozy enough for a date night dinner.
Drinks: House beers include Baby Steps (pilsner), Black Forest (marzen), Hoo-Brew Honey (honey brown), None The Wiser (IPA), Sweetwater Wheat (American wheat), and the seasonal Summer-Gun (saison). According to our waitress, they keep 10 local drinks and 10 national ones on draft at all times.
Plates: Your typical bar food of beer cheese with pretzels is available, but step outside the box and go for the mussels, offered with a variety of accoutrements. Salads are large and hearty, and you can't go wrong with the short rib burger or the Hoosier tenderloin.
Something unique: Stumble upon the bee hives out back? They're being cultivated for future honey brown ales. An herb garden also exists for procurement by the chefs.
---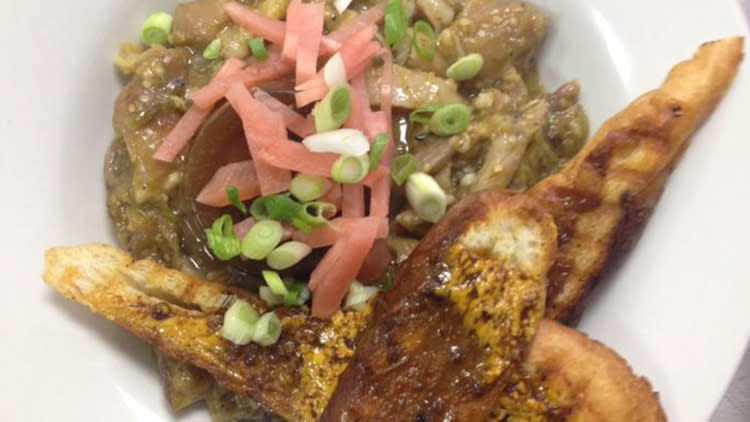 Love Handle (North East)
Location/Atmosphere: Described as a sandwich deli and diner, Love Handle's restaurant has an inconspicuous approach - until you order your meal. Located at Rural and 10th, this restaurant brings creative food to neighborhood that needs it.
Drinks: Only Dark Matter Coffee from Chicago, soda and water are guzzled here.
Plates: Former Goose the Market manager Chris Benedyk brings his expertise in meats to the butcher block by introducing sandwiches and full plates that use pork belly, smoked brisket and pork heart confit. The menu is posted daily on their Facebook page and includes breakfast, small plates, sandwiches, and drinks. Leave your preconceived expectations behind as you'll be pleasantly surprised by the chef's translation of ingredients from the menu to your table.
Something unique: Miso Ovaltine Sweet Rolls have made an appearance.
---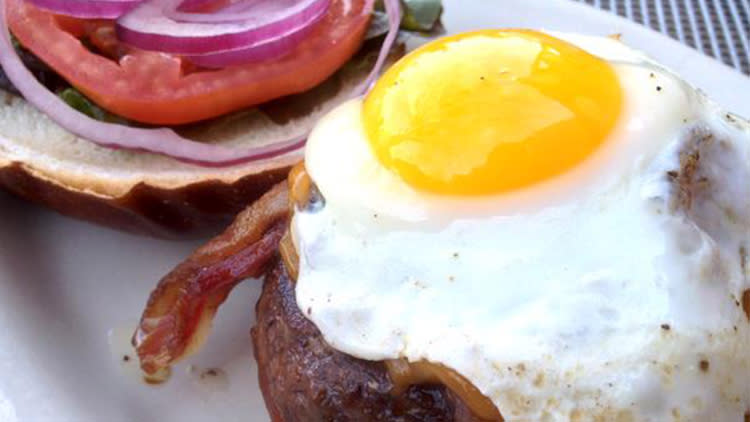 Kuma's Corner (Fountain Square)
Location/Atmosphere: Fountain Square is filled with energy and Kuma's Corner adds to it with heavy metal music blaring through the speakers. Inside the brick building you will find an open kitchen with bar seating so you can have a direct view into all of the cooking action.
Drinks: Over a dozen local brews are available on tap and many more in cans and bottles as part of the well stocked bar. Kuma's Corner recently tapped Zombie Dust, the perfect bitter brew to wash down those juicy burgers.
Plates: Burgers are the specialty, each named after a rock or metal band. A standout is the Slayer Burger: a 10 ounce patty on top a bed of French fries (no bun), followed by house made beef chili, caramelized onion, Andouille sausage, cherry peppers, Monterey jack cheese, scallions, and a little bit of anger. Other notables include BBQ Pork Fries and Mac and Cheese.
Something unique: September's burger of the month is the Mutoid Man, which features a jalapeno habanero mayo on a 10 ounce patty with pepper jack cheese, New Day Meadery cider braised pulled beef, house made pepper jack cheese sauce, tempura fried jalapeno and garlic mac and cheese bite, frizzled green onion and Sriracha drizzle.
With so many options, how will you choose where to eat today? Tweet us your picks at @VisitIndy!