I was a kid who loved to doodle. I loved finding imagery in popular culture and seeing if I could recreate it. Look at the book covers I adorned in high school (yes, we used to cover our books with craft paper) and you'd find band logos in pen and ink, from Zeppelin to Pearl Jam, forming a mosaic from front to back. This passion led me to a career in graphic design that I practice to this day. The website you are now navigating is a prime example of my work.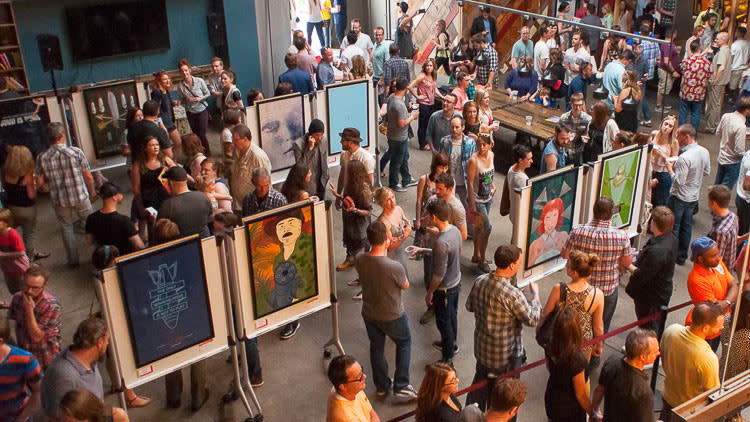 When it comes to fine art events - think gallery shows and First Fridays - most celebrate less commercial disciplines. There is one annual event, however, that is a showcase of the talented graphic designers that call Indy home. Best of all, it is centered around the most relatable of topics - movies.
Now in its seventh year, The Bigger Picture Show is an annual fundraiser for the city's beloved Indy Film Fest and it takes place this Friday, May 13. Here is how it works: Top designers, including those from major design firms and scrappy freelancers, are charged with reimagining famous movie posters. Each year there is a loose theme and this year they are celebrating the Seven Deadly Sins. The curated show is then put on display and a bidding war ensues.  It is not necessary to bid in order to attend - but you will be tempted. I went in with no intention to buy last year and now have a framed portrait of Gandolf, of Lord of the Rings fame, looming above the couch in my living room. The 68 posters presented at the Bigger Picture Show this year will span all genres of film. Last year you could see everyting from Poltergeist to Smoky and the Bandit to Hoosiers (this is Indiana after all).
If you love movies and the often underappreciated art of graphic design I invite you to the Basile Opera Center for one of my favorite annual events. Expect to mix and mingle with the Indy creative community, including the designers, while enjoying local beers and food trucks. You just might walk out with an homage to Ghostbusters or Apocolypse Now or The Princess Diaries. You never know.
A big shout out to Lodge Design, the creative talent behind our own Indy logo, for championing graphic design and pulling this incredible event together.