The legacy of the Indianapolis entrepreneurial icon, Madam C.J. Walker, is alive here in Indy in so many ways. From the Madam Walker Legacy Center, formally housing the Madam Walker Theater, to Easter-eggs all around the city showcasing the self-made inspiration, Madam Walker's story is around for all to see.
Now, it's told through an 11ft high, 75ft long mural at the Indianapolis International Airport. Not only does the mural show the accomplishments of the first Black female self-made millionaire, complete with stunning scenes of Madam Walker's haircare product empire, but also depicts the dreams of contemporary Black men and women inspired by her legacy.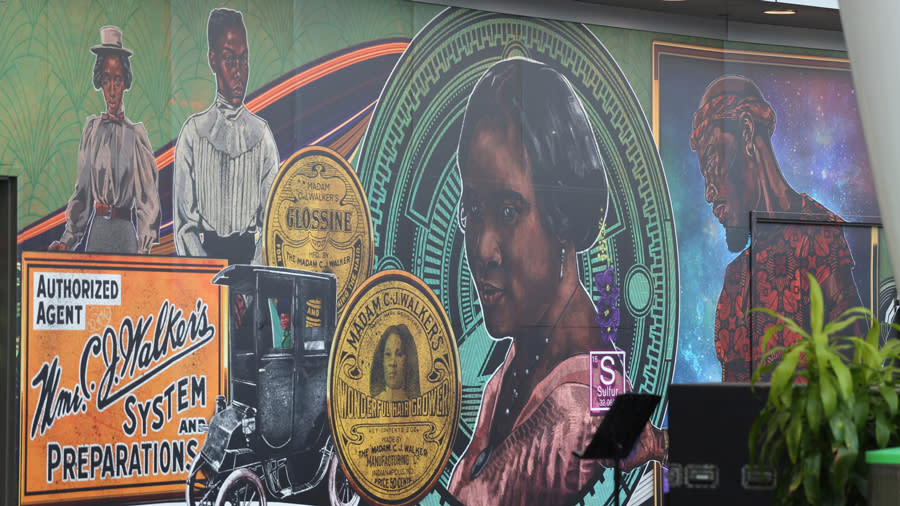 Local artist Tasha Beckwith created Entrepreneurs Awakening: The Making of a Legacy with her eyes to the future, saying that even though Madam Walker's entrepreneurial legacy and story started more than a century ago, "they still carry meaning for us today."
"When I first started the concept, I asked myself what Madam C.J. Walker meant to me, as a Black woman born and raised in Indianapolis, Indiana," said Beckwith.
That sentiment could not be more true. Growing up myself here in Indy, I vividly remember my first acquaintance with Madam Walker's legacy. For more than 12 years, I stepped onto the stage at the Madam Walker Legacy Center as a dancer and performer. I stood in the spotlight shared by so many inspiring Black men and women before me, getting to know the theater and its deeper meaning like the back of my hand.
And now, the same energy I felt as a child is represented once again through this vibrant mural at the airport. An official project of the Indianapolis Bicentennial Commission, the mural seeks to share Madam Walker's legacy even further. And when I think about all the travelers coming to and from Indy through this space, my heart feels like it did over ten years ago, shining under the spotlight and the story of this Indy icon.