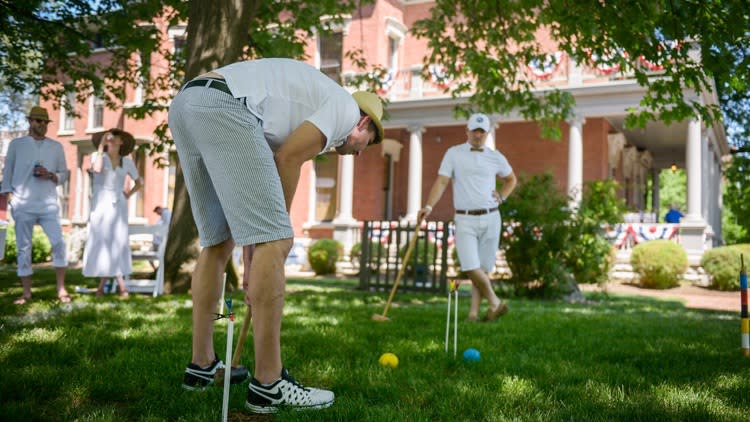 On Thursday, October 4, you are invited to the Benjamin Harrison Presidential Site for an evening on the lawn. The 3rd Annual Croquet Roquet is a casual opportunity to gather, imbibe with beverages from Sun King Brewing and Garden Party Hard Sodas, grub on Hot Box Pizza, and – of course – play some croquet!
You get all of the above for $10/team ($5/person). Find a better deal in the city. I dare you.
The event runs from 5:30-7 pm. Come as you are after work (dress whites are also acceptable) and you'll get a lesson in the rules of the game. Then, you'll have the opportunity to play a micro-tournament. Think you can't compete? Think again. At this year's Wicket World of Croquet, a truly epic event that takes place each June, the winners from both the Competitive and Leisure Tournaments were first time players.
Of course, not everyone participates with the intention of hoisting a trophy. This event is also about networking, laughing, and enjoying a fall evening at a city treasure. Funds raised from the event support year-round educational efforts that showcase the importance of civic engagement for students. At a time when voting levels are at an all-time low, this is a cause worth championing.
Why do we give you so much for so little? Because we hope you will have a blast, learn how to play, and consider registering for the 2019 Wicket World of Croquet.
Take advantage of this incredible deal and register your team of two today.
See you on the lawn!