Behind every memorable weekend visit or sunny Saturday afternoon in Indy, chances are you enjoyed a solid meal at one of city's local restaurants. You've noticed, locals have noticed, and our Top 25 Local Restaurants guide noticed – Indy is brimming with an energetic culinary community ready to serve our visitors. And now, Food & Wine have taken stock of our city's diverse array of local eateries, naming Indianapolis as one of America's Next Great Food Cities.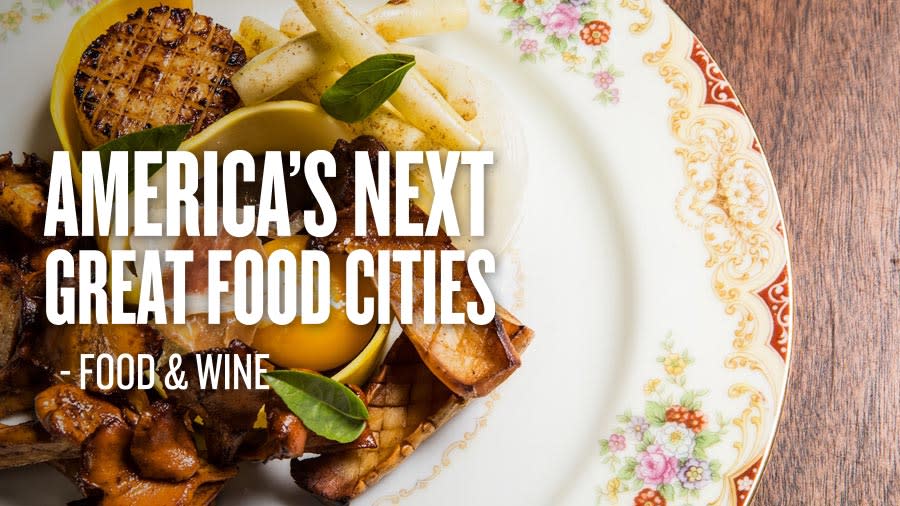 "Few cities can claim to have a real diversity of cuisines; an abundance of affordable, quality dining options; and a vibrant mix of personalities championing food access for all," says Food & Wine in their recent roundup of emerging foodie cities. It's these personalities that shape Indy's culinary community and make our city a noteworthy destination for foodies. Whether it's with crafted coffee from Amberson Coffee Co., cozy cocktails at The Commodore, or steaming seafood warmed with Trap Buttah from Chef Oya's the Trap, you can work up an appetite in Indy.
Is your mouth watering yet? How about when Food & Wine mentions the myriad of cuisine choices at The Garage at Bottleworks or The AMP at 16 Tech? Both new additions to the Indy eatery scene, these expansive food halls offer abundant options for any dining preference. And with The AMPs newest feature, Melon Kitchens, local Kelli Jones' ghost-kitchen concept catering to underrepresented restauranteurs in the industry, these eateries are making waves in the Circle City's community.
It's our vibrant collection of culinary creators, like Kelli, that have placed Indy onto Food & Wine's list. Indy locals are the - pun intended – bread and butter of our tourism product, and rightfully so, we see locals like Ben Hardy with Gallery Pastry Shop and Bluebeard's Abbi Merris featured in the article. Food & Wine further recognizes Martha Hoover's work with The Patachou Foundation, as well as Chef Oya Woodruff's generosity with neighborhood residents in need.
So the next time you visit the Circle City to grab a bite, look around. In between laughter with your friends or spending quality time with loved ones, you'll see the culinary community come together as one of America's Next Great Food Cities. Read the full article here.
Follow Along With Your Favorite Indy Eateries